Youth@RedAvenue
x
= independently organized TED event
Theme: My revolution
Novosibirsk, Russian Federation
June 21st, 2013
Watch video from the event
Please install flash player to see this video.
View photos from the event on Flickr
About this event
TEDxYouth@RedAvenue aims to create a platform for communication between young people, in order to demonstrate the ideas, necessary for the development and movement, as well as to increase the level of professional values ​​and intellectual activity among young people.
Confirmed Speakers
Igor Anyutin
The captain of the dance team Da Funky Style in Novosibirsk, President of the Federation of youth cultures.
Konstantin Zhuravlyov
Traveler, photographer, liberal adventurer.

Sofya Sizova


Pupil, graduate of the "Early training of innovative personnel." Sophia is very bright, sociable and interesting girl.

Elizaveta Begey


Pupil of the governor's program. His hobbies: painting, decorative and applied arts, modern literature, cinema. She is a student of the Children's Railway.

Svetlana Kosobokova


Perspective translator sinologist, a member of international organizations AIESEC and SIFE (Enactus). Svetlana concerned about the creation and improvement of professional skills.

Stanislav Triers


The founder of the business incubator "Mercurius", Managing IT business incubator Academpark.
Artyom Loskutov
An artist, organizer "Monstration". Artem involved in urban activity of Novosibirsk.
Egor Ivanov
The founder of the "Studio Kino". All his life he loves cinema. After graduating from university, Egor realized that if he will not has to do with the movie, he probably will disappear. At 24, Egor started his own company, which uses approaches the western film industry in its activities.
Evgeny Volikov
Businessman, investor, co-founder and 1st President of the International Corporation "Siberian Health" (founded in 1996, more than 3 million customers worldwide), the author of Technology of Business producing. The founder and head of business area producing "futuremakers".

Ivan Loboda


Trainer-trainee children's program "Camp - World of My Dreams" certified coach on the program FWI, a businessman, a leading training "Have.Be.Do".
Organizer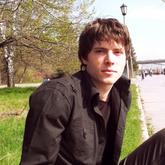 Artem Gumenyuk
Novosibirsk, Russian Federation
---