UdG
x
= independently organized TED event
Theme: Swell People and Ideas. Beyond University
Girona, Spain
May 24th, 2013
View photos from the event on Flickr
About this event
The current economic downturn in our regional community has led us to search and find people with ideas to overcome difficulties. We think that our duty is also to spread those ideas as much as possible and to provide examples of success counteracting society's negative perception. Society must know the role of our University - to lead, catalyze and accompany social, economic and event political leaders – and it must be acknowledged and known. Universities (and researchers) occupy the top reputation spots here in Spain and are still a source of trust - perhaps the main one yet. In the second edition of TEDxUdG, thus, we will host university-related academics, staff and students who are actively involved, in some way, with fighting difficulties and creating jobs, setting up projects, becoming more international, and providing innovative education which can look to the future.
Confirmed Speakers
Mariàngela Vilallonga
Professor, Latin Language.
Mateu Sbert
Professor, Information Technology. Entrepreneur.

Jordi Feu


Professor, Pedagogy.
Sílvia Simon
Professor, Physical Chemistry. Science Communicator
Jesús Garcia
Professor, microbiology. Entrepreneur.

Pere Condom


Director, Science and Technology Park, UdG
Marc Font
Entrepreneur
Enric Sucarrats
Food in Education
Rafael Garcia
Professor, Robotics. Entrepreneur.
Josep Lluís De La Rosa
Professor, Artificial Intelligence. Entrepreneur.

David Grau


Sports Service, UdG Director

Javier Garcia


Theoretical Physics, Professor. Innovative Musician.

Joaquim Majó


Tourism, Professor. IT and Innovation in Touristic Services.
Organizer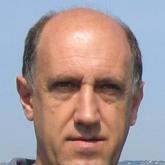 Miquel Duran
Girona, Spain
Team
Meius Ferrès

Executive Secretary

Ingrid Aznar

Information Supervisor

Cristina Valentí

New media

Isabel Coronado

Local engagement

Anna Ferrero

Global engagement

Marta Puig

Public Relations

Josep M. Fonalleras

Co-Host and Idea Stormer

Francesc Ten

Floater and Publisher
---