Youth@GarzaGarcía
x
= independently organized TED event
Theme: La Chispa
San Pedro Garza García, Mexico
November 16th, 2013
Watch video from the event
Please install flash player to see this video.
View photos from the event on Flickr
About this event
TEDxYouth@GarzaGarcía es un evento tipo Joven afiliado a TED que se realizó en Nuevo León. En su primera edición, este evento Joven será realizado en sintonía con la conferencia oficial de TEDYouthDay y decenas otras TEDx alrededor del mundo, bajo el lema de "La Chispa".
Confirmed Speakers
Organizer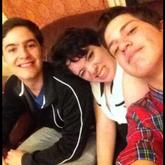 Veronica Perez
Monterrey, Nuevo Leon, Mexico
Organizer
Mayerling Guajardo
Monterrey, Nuevo Leon, Mexico
Team
Pedro Falcón

Team member

Mariana Díaz

Team member

Daniela González

Team member

Alejandra Cepeda

Team member

Marcela Guevara

Team member

Sofía Camargo

Team member

Sara Velasco

Team Member

Marifer Castillón

Volunteer

Mario Guajardo

Volunteer

Mauricio Aranda

Volunteer
---