NovaScotiaChange
x
= independently organized TED event
Kentville, NS, Canada
April 3rd, 2013
About this event
Confirmed Speakers
Jeffrey Hosick


Jeffrey Hosick has been working in field of personal and corporate transformation for 25 years. He is dedicated himself to understand the fullness of human darkness and potential. Himself a prison volunteer for 28 years, a volunteer fire fighter, a business coach, therapist and clergy, he seeks to see change follow through from the individual to the community in non-profits and in the business sector. Jeff holds a PhD in diversified counselling. Is an international author, speaker, trainer.
Patricia Bishop
Patricia is an organic farmer, CSA organizer. mom, wife, and elected counsellor for the County of Kings in the Annapolis Valley of Nova Scotia.
Andy and Ariana
Andy and Ariana have spent the last seven and a half years getting to know and love Nova Scotia (ok, Ariana grew up in NS but moved away as a young adult, never to return...) This has involved much performing and recording, collaborations with other Nova Scotian acts, and presenting monthly local talent shows in Wolfville (and that's Talent with a capital T!). The two enjoy playing music for audiences of all ages, especially when they're all together at the same time, which is why they spend many a summer morning playing at Farmers' Markets around the province. Not to mention that local food is the best kind of food! Nova Scotia rocks really.
Organizer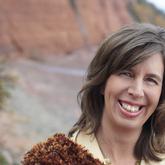 Frances Schagen
Kentville, Canada
Team
Robert Stathakis

Co-Organizer

Sandra Gunther

Co-Organizer
---