LAU
x
= independently organized TED event
Theme: Salon V.3.0: On Humanity
Beirut, Lebanon
December 10th, 2012
Watch video from the event
Please install flash player to see this video.
View photos from the event on Flickr
About this event
Looking for two hours of inspirational ideas, stimulating dialogue, and exceptional entertainment?

On the occasion of Human Rights day, TEDxLAU will present its first salon of the academic year 2012-13. Our talks will focus on morality, compassion, conflict transformation, and the role of the media.

What to expect:
Live speaker: Vanessa Bassil on Peace Journalism (in Arabic)
Three screened TED/TEDx Talks
Open debate
Refreshments

...and, all in all, enjoy the exceptional atmosphere that has come to characterize TEDxLAU.

Transportation from LAU Byblos will be provided.
Confirmed Speakers
Vanessa Bassil
Vanessa Bassil is a Freelance Journalist and a Peace Activist. She earned her BA in Journalism, in addition to another BA in Political and Administrative Sciences at the Lebanese University, and is currently pursuing her Master degree in Information and Communication Sciences. She has more than 25 local and international certificates of participation and activism.
Organizer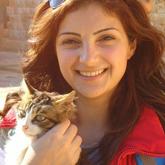 Reine Azzi
Beirut, Lebanon
Team
Hala Hassan

Design Guru/Event Strategy

Shoug Al-Nafeesi

Social Media Wizz

Abir Ward

Speakers/Event Strategy

Sally Baydoun

Tweet-a-Mania/Social Media

Wael Slika

La7m-b3ajin/Budget/Sponsorship

Ibrahim Halawi

The Thinker/Budget/Sponsorship

Elsa Saade

The Artist/Logistics/Event organization

Stephanie Farah

The Debater/Event strategy

Ahmad Kammaz

King of Logistics/Event organization

Ghida Ladki

Face of TEDx/Eventbrite/Event organization

Fadi Hammoud

Jack of all!/Event organization/Logistics

Ali Rahhal

Google Much?/Social Media

Zaynab Ayyad

The observer. Video Production/Photography

Haneen Shabshoul

Video Production/Photography

Aya Itani

Video Production/Photography

Tanya Saab

Video Production/Photography

George Medawwar

Resident DJ
---