Youth@PortauPrince
x
= independently organized TED event
Theme: Dream Big... then do it!
Port-au-Prince, Haiti
November 12th, 2012
About this event
We will be connecting events and activities in 4 cities around our TEDxYouth@PortauPrince event. From solidarity to the recent disaster in New York to interaction with kids in Santo Domingo and Boston to measuring the radioactivity levels in the urban cities and learning from it.
Organizer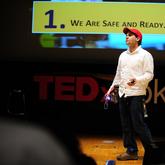 Carlos Miranda Levy
Santo Domingo, Dominican Republic
Organizer
Patrick Attie
Port Au Prince, Haiti
---