FremontEastWomen
x
= independently organized TED event
Las Vegas, NV, United States
December 1st, 2012
Watch video from the event
Please install flash player to see this video.
View photos from the event on Flickr
About this event
Jessica Tomlinson and Alexia Vernon, co-hosts of TEDxFremontEastWomen, are ecstatic to invite you to celebrate TEDxWomen's day with the downtown Las Vegas community on Saturday, December 1, 2012 at Art Square Theatre.

If you are looking to learn from and connect with local women and men using their lives and work to build the next chapter of Las Vegas, get ready for a day dedicated to some of Las Vegas' most inspiring female voices sharing their stories, presenting their ideas, and offering perspectives rarely heard in our community.

Confirmed Speakers
Jennifer Magnolfi




April Mastroluca



Organizer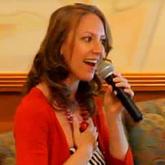 Jessica Tomlinson
Las Vegas, NV, United States
Organizer
Alexia Vernon
Las Vegas, NV, United States
Team
Samantha Cunningham

Speaker Coordinator

Rosa Ilinka McGill

Social Media/ Tech Coordinator

Evelyn Ramos

Event Designer

Jasmine Freeman

Sponsorship Coordinator
---