Youth@LCJSMS
x
= independently organized TED event
Theme: Coming of Age in the 21st Century
Summit, NJ, United States
June 5th, 2013
Watch video from the event
Please install flash player to see this video.
View photos from the event on Flickr
About this event
For our school's first venture into the world of TEDx, we have assembled a group of the most gifted and dynamic students in the world to develop, produce, promote and present their own TEDx program. Students began their journey in September as they auditioned to be a presenters and producers of the event. Those selected have been working diligently ever since. Ten presenters spent months researching, conducting experiments, crafting speeches and rehearsing their deliveries. Simultaneously, producers handled every facet of running the program. Doing so included building a stage and rear projection screen, working on sound and lighting, facilitating the presentation of slideshows, reaching out to the community for their participation, bringing in secondary acts such as musicians and dancers, and creating a program. It's been a truly amazing experience to witness fifteen 7th and 8th grade students create what is sure to be an incredible event.
Organizer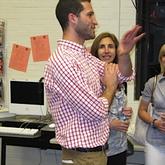 Randy Wallock
Summit, NJ, United States
Team
Jack Bonomo

Host

Adam Dwyer

Producer

Liam Dwyer

Producer

Patience Baldacci

Producer

Ethan Barsh

Producer

Griffen Feeney

Producer

Delaney O'Dowd

Producer

Dory Marcus

Organizer

Janice Cavanagh

Organizer

Nicole Plumbo

Organizer
---