KharkovSalon
x
= independently organized TED event
Theme: Where do adults begin from?
Kharkov, Ukraine
August 29th, 2012
View photos from the event on Flickr
About this event
Each the 1st of September is the Knowledge Day and thousands of children return to schools after Summer holidays. Many of us are parents or will be ones. Each of us are interested in who our children will grow. How to help them to enter adulthood? But may we - adults - must learn from our children and they know much more than we do guess? Let`s discuss!
Organizer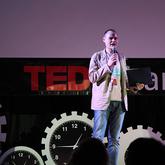 Evgeniy Beloshytskiy
Kharkov, Ukraine
Team
Aleksandr Chumak

Co-organizer
---