FHM
x
= independently organized TED event
Theme: "Die Welt mit anderen Augen sehen"
Bielefeld, Germany
November 17th, 2012
About this event
Deutsch

Eine TED University Veranstaltung, die von der Fachochschule des Mittelstands (FHM) ausgerichtet wird. Studenten, Dozenten und externe Redner werden zu verschiedenen, modernen, relevanten Themen sprechen. Themen sind u. a. Business, Linguistik, Gesundheit, IT u.v.m. Es wird auch Musik von lokalen und internationalen Künstlern geben.

English

A University event, hosted by the Fachochschule des Mittelstands (FHM). Students, faculty and external speakers will talk on myriad, modern, relevant topics ranging from business to linguistics, health to IT. There will also be music and cultural performers from local and international artists.
Confirmed Speakers
Matt Beadle
"See the world through different languages" (englisch) - Matt ist FHM Dozent und Fakultätskoordinator sowie Managementtrainer, Moderator und Autor
Christiaan Lorenzen
"Seeing through others' eyes - legacies from the kitchen table" (englisch) - Christiaan betreut und berät internationaler und nationaler Kunden in Projekten der Personal- und Organisationsentwicklung
Dr. Andreas Hettich
"Leute führen im Großkonzern" (deutsch) - Andreas ist Vorsitzender der Geschäftsleitung bei der Firma Hettich Holding GmbH & Co. OHG
Mark Jansch
"Afghanistan - hinter den Kulissen" - (deutsch) Mark ist FHM Dozent und Redner und Experte in den Bereichen Kommunikation, Wirkungsweise und Kreativität.
Marc Pavey
"Digital native oder digitaler Neanderthaler... Web Thesen im Wandel" (deutsch) - Marc ist FHM Dozent und IT Berater
Daniel Rieber
"Die zukünftige vernetzte Welt" (deutsch) - Daniel ist FHM Dozent und Director Digital Research bei Interrogare GmbH
Thomas Wolf-Hegerbekermeier
"Einheitliche Behördennummer 115" (deutsch) - Thomas ist FHM Dozent und Justiziar und Beauftragter für Entbürokratisierung des Kreises Lippe
Britta Schmuck
"Gesunde Ernährung" (deutsch) - Britta ist Gesundheitsberaterin

Franziska Rokahr, Natalie Schneider


"Preimplantation-Genetic-Diagnosis" (englisch) - Franziska und Natalie sind FHM-Studentinnen (BA-BW08-VZ)

Diana Möller, Olivia Placzek


"Immigration and the rise of right wing politics" (englisch) - Diana und Olivia sind FHM-Studentinnen (BA-MW07-VZ)
Sommerhelden (Musik)
Leadsänger der Sommerhelden ist FHM-Student und SING A SONG 2012-Sieger Christian Scheer (BA-MM04-VZ)

Ann-Christin Buchholz, Dominik Müller


"Child labor" (englisch) - Ann-Christin und Dominik sind FHM-Studierende (BA-MW07-VZ)
Organizer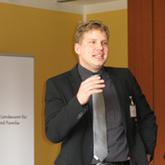 Matt Beadle
Bielefeld, Germany
Team
Gerlis Viola Meinert

Organisation

Matt Beadle

Oranisation/Moderation
---