CincinnatiWomen
x
= independently organized TED event
Theme: Live Consciously.Be Authentic.Empower Others
Cincinnati, OH, United States
December 1st, 2011
View photos from the event on Flickr
About this event
TEDxWomen is a TEDx event organized by the Paley Center that focuses on women, and women's issues. TEDxWomen type events are TEDx events hosted around the live webcast of TEDxWomen, and also feature local speakers. Our event is called TEDxCincinnatiWomen, and is one of many TEDx events happening around the globe on December 1st that will expand on the ideas brought up at TEDxWomen.

We will also be featuring several speakers from our local community beginning at 6:30 pm. Our theme is "Live Consciously...Be Authentic...Empower Others"
Confirmed Speakers
James Pond




Krista Neher




Jenny Berg




Lorri Munafo



Organizer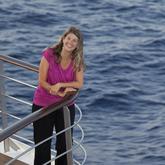 Jami Edelheit
Cincinnati, OH, United States
Team
Dan Brill

Strategic Partner/Creative Director

Michelle Spelman

Live Wire!
---