GuelphU
x
= independently organized TED event
Theme: Perceiving Past the Paradigm
Guelph, ON, Canada
February 12th, 2012
About this event
Theme: "Perceiving Past the Paradigm"

Exciting event around the idea of challenging mainstream thought and encouraging beyond the box. Stay tuned for details to come follow us @TEDxGuelphU, www.tedxguelphu.com, Facebook.

We aim to challenge mainstream boundaries, beliefs, practices and actions by directing our thoughts and conversions towards doing and seeing things differently. When we Perceive Past the Paradigm we will push ourselves to the next level of discovery.

Confirmed Speakers
Adam Spence


Manager, Special Projects, SiG@MaRS; Founder, SVX I Invest for impact. Adam Spence is the Founder of the Social Venture Exchange (SVX) and Manager, Special Projects at Social Innovation Generation (SiG) at MaRS. For over ten years in the nonprofit sector, Adam has focused his work on community development, education, social innovation, and public policy change. He was Executive Director of the Ontario Association of Food Banks (OAFB) for five years, a community animator for the skilled trades in Hamilton, and led the Ontario Undergraduate Student Alliance (OUSA). In these positions, he successfully grew revenues, developed enterprise programs, and successfully advocated for public policy change including low-income grants for post-secondary students and Ontario's Poverty Reduction Strategy. Adam was born in Glasgow, Scotland, grew up on the Canadian prairies, and came of age in Hamilton, graduating from McMaster University with a degree in geography.

Candace Sepulis


Commercial Artist/ Illustrator. Based in Guelph, Candace Sepulis is a creative thinker and commercial artist. She has degrees in both philosophy (University of Guelph, 2002) and environmental design - architecture (Dalhousie University, 2008), and her work spans an array of media (illustration, film, upcycled architectual works) while always being quirky, unique and using innovative problem-solving approaches. Candace's commercial illustration work blends hand-drawing, silkscreening and retro styling. With her love for nostalgia, Canadace's work often features love, heartache and defeat as felt through longing architectural scenes and conceptual iteration. Also an accredited graphic designer, she also runs a design studio, Ballyhoo Media, a boutique creative agency specializing in the marketing side of design including brand strategy and branding systems. She was the 2011 Recipient of the Guelph Women of Distinction Award (Arts & Culture category).

Dr. Dan Dolderman


UofT Environmental Psychology Professor. Dr. Dan Dolderman is an Environmental Psychologist at the University of Toronto, with a Ph.D. in Social Psychology from the University of Waterloo. For the past 10 years, his research has explored the drivers of pro-environmental behaviours, and how to enhance the persuasive impact of environmental messages. He has helped to design environmental programs for the University of Toronto, regularly presents the psychology of behaviour change to groups ranging from student activists to Toronto City Council, and has consulted for Free the Children, an international youth organization devoted to promoting positive youth development and volunteerism. Dr. Dolderman's key focus is helping to improve programs and campaigns related to climate change.

Derek Alton


UoG CSA Local Affairs Commissioner. Derek Alton is a fresh graduate from UoG with a BA in Political Science. He has been involved in many different aspects of the Guelph including 12 semesters with the Peer Helper program where he work first with Off Campus Living and then Leadership Education and Development. He has also dabbled in student governance, sitting on Senate for a year. He has been involved in many different movements on campus including Climate Day: Fill the Hill in 2009 that saw several thousand people going to Parliament Hill to demand government action on Climate Change. All of these experiences have given Derek the privilege to work with many outstanding individuals who have inspired him, including the great team that is working on the 'Change the World in 60 Seconds' initiative. Currently Derek is the Local Affairs Commissioner for the Central Students Association.

Dr. Doug Fudge


UoG Integrative Biology Professor. Dr. Douglas Fudge leads the Comparative Biomaterials Lab in the Dept. of Integrative Biology at the University of Guelph. Dr. Fudge got his B.A in Biological Sciences at Cornell University, his M.Sc. in Zoology at the University of Guelph, and his PhD in Zoology at the University of British Columbia. He was an NSERC postdoctoral research fellow in the Faculty of Medicine at the University of British Columbia. Research in his lab focuses on comparative animal biomechanics, with an emphasis on the materials that animals make. These include structural materials that cover a wide range of size scales, from nano-scale cytoskeletal filaments within cells up to large, tissue-based materials such as the keratinous plates of baleen whales. A special area of research focus is on biomaterials constructed from intermediate filament proteins, which occur both in living cells and keratinized tissues such as hair, nail, and horn.

Evie Adomait


UoG Economics Professor. Eveline Adomait was born to Dutch immigrants in rural Ontario. She attended the University of Guelph, intending to become a doctor until she realized that she couldn't use a scalpel on anything alive. This required a change in direction. Fortunately, she was taking an introductory economics course and fell in love with the ideas (and look Mom … no blood!). She has a master's degree in Economics from the University of Guelph, and for the past 20 years has made her career as a teaching professor at her alma mater. By her calculations, she has taught the equivalent of the population of a small city various economics courses at the first-, second-, and third-year levels. Her favourite is the first year, with class sizes ranging from 300 to 600 students, because this is the year in which many students experience "aha moments" when it comes to economics. Their 18-year-old minds also keep her young. In 2011 she co-authored the successful book "Cocktail Party Economics," which aimed to write simply about what can appear to be a complicated subject while never dumbing down the intellectual ideas that make Economic thought so important in this day and age.

Dr. Gerald Pollack


University of Washington Bioengineering Professor. Gerald Pollack received his PhD in biomedical engineering from the University of Pennsylvania in 1968. He then joined the University of Washington faculty and is now professor of Bioengineering. His interests have ranged broadly, from biological motion and cell biology to the interaction of biological surfaces with aqueous solutions. His 1990 book, Muscles and Molecules: Uncovering the Principles of Biological Motion, won an "Excellence Award" from the Society for Technical Communication; his more recent book, Cells, Gels and the Engines of Life, won that Society's "Distinguished Award." Three additional books, on water and energy, are underway. Pollack received an honorary doctorate in 2002 from Ural State University in Ekaterinburg, Russia, and was more recently named an Honorary Professor of the Russian Academy of Sciences. He received the Biomedical Engineering Society's Distinguished Lecturer Award in 2002. In 2008, he was the faculty member selected by the University of Washington faculty to receive their highest annual distinction: the Faculty Lecturer Award. Pollack is a Founding Fellow of the American Institute of Medical and Biological Engineering and a Fellow of both the American Heart Association and the Biomedical Engineering Society. He is also Founding Editor-in-Chief of the journal, WATER, and has recently received an NIH Transformative R01 Award. He will be the 2012 recipient of the Prigogine Medal.

Gracen Johnson


UoG Student, Co-Founder of Tradyo and the Vote Mob movement. Gracen Johnson is a young entrepreneur and youth mentor. She studied International Development at the University of Guelph and recently graduated from the Next 36, Canada's Entrepreneurial Leadership Initiative, where she co-founded Tradyo, a mobile tech startup. Her background consists of creative advocacy, including co-founding the Vote Mob movement and leading Fill The Hill, one of the largest national climate mobilizations on Canadian soil. She has a passion for smart cities, sustainable transportation, agriculture, and social enterprise among other things. Gracen is currently preparing for grad school and future of retrofitting auto-dependent neighbourhoods to walkable, vibrant, and resilient communities.

Dr. Ian Spears


UoG Political Science Professor. Dr. Ian Spears, BA (UofT), MA (Queen's), PhD (McGill) is an Associate Professor in the Department of Political Science and in the Collaborative International Development Studies programme. Dr. Spears teaches about the politics of developing areas (specifically Africa), while his research interests focus largely on problems and prospects for conflict and conflict resolution in African states. His latest book, Civil Wars in Africa: The Search for Security was released in late March. In his spare time, Ian enjoys rowing and coaches a high school girls rowing team.

Dr. Jack Trevors


UoG Microbiology Professor. Dr. Jack T. Trevors is Professor of Microbiology at the University of Guelph and adjunct professor at the University of Waterloo. Jack is an ISI highly cited author, fellow of nine science academies including the Royal Society of Chemistry (FRSC); European Academy of Sciences and Arts and the American Academy of Microbiology. He is the recipient of the University of Waterloo, Alumni of Honor Award. Jack is the chair of of the Canadian College of Microbiologists environmental microbiology specialization/certification and has served as the past director of continuing microbiology education. Jack's 30 year record of industry-university collaborations, basic research, graduate and undergraduate teaching, has contributed to an understanding of bacterial gene expression, membrane fluidity, bacterial metabolism, pathogen detection and environmental survival of microorganisms using molecular, biochemical and ecological research methods. He also researches the origin of life and genetic instructions from a theoretical perspective. Jack is the editor of the Journal of Microbiological Methods and Antonie Van Leeuwenhoek J. of Microbiology.

Dr. Maurice Nelischer


UoG Landscape Architecture Professor. Throughout his career Maurice has been very active in community planning and design . His professional work focuses on community design and the facilitation of public input in the decision making process. This focus is complimented by his experience in the use of video-imaging technologies as a communication tool. Maurice has been involved in University and community initiatives seeking to link quality of life issues with physical design and planning through a rigorous and explicit public process. After many years as a professor and director in the School of Environmental Design and Rural Development ( he's a Landscape Architect), Maurice has taken on a new role as the University Director of Sustainability. This position is in response to needs identified in the 2010 Presidents Task Force on Sustainability. The University of Guelph is well positioned to lead the paradigm changes that society needs to embrace to address the issues we are facing. Maurice will mine the expertise of faculty and students to help find viable new ways of thinking and doing things to allow us to live in a world that is environmentally, socially and economically sustainable.

Tony Chegahno


Chippewas member and Aboriginal Liasion. Anthony (Tony) Chegahno is a member of the Chippewas of Nawash Unceded First Nation. He is married and has 3 grown children and 2 grandchildren. Tony attained his Bachelor's Degree in Religious Education and a Master's Degree in Theological Studies. Tony has held a number of leadership positions in his home community including Youth Worker, Pastor and Director of the Native Child Welfare Program. As well, he was a Band Councilor for many years and a member of the Nawash Board of Education ADHOC committee. For the past five years, Tony has worked with Parks Canada as a resource technician under the Species At Risk program. At present he is the Aboriginal Liaison between the Nawash First Nation and Parks Canada. Tony has sat under many elders as they shared their knowledge of life and nature. As knowledge holders, the elders have always made it clear that future generations have their responsibilities in protecting nature. "I share that responsibility. You share that responsibility. We are all responsible to be both the custodians and protectors of what God has created. Miigwetch" --Anthony (Tony) Chegahno
Organizer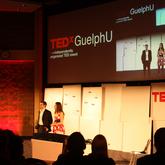 Jaclyn Quinn
Guelph, Ontario, Canada
Team
Jaclyn Quinn

Lead Organizer

Ben Bickers

Director of Marketing

Grace Cuttle

Director of Marketing

Brittany Burek

Director of Logistics & Volunteer Management

Sasha Odesse

Webmaster

Kevin Bowman

Director of Finance & Sponsorship

Fernando Salgado-Bierman

Director of Finance & Sponsorship

Ethan Buchman

Speakers Coordinator

Jenny Stodola

Speakers Coordinator

Jessica Cheung

Director of Design & Photography

Saquib Mannan

Our TEDx Guru

Michael Wheeler

Director of Tech

Marc Carnevale

Director of Tech
---