NBU
x
= independently organized TED event
Theme: Ideas that happen
Sofia, Bulgaria
March 25th, 2011
Watch video from the event
Please install flash player to see this video.
View photos from the event on Flickr
About this event
The event want to show the ideas that happen and were originated by professors, alumni or students of New Bulgarian University. We will share different ideas that we are proud of and that make us feel inspired to generate more and more ideas worth spreading.
Organizer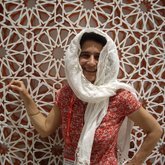 Dessislava Boshnakova
Sofia/bulgaria, Bulgaria
Team
Elena Tsoneva

PR specialist

Vassilena Ivanova

Speakers relations

Stoiko Petkov

Production consultant

Boyan Petrov

Communication specialist

Svetla Tomova

PR specialist
---