LaSierraUniversity
x
= independently organized TED event
Theme: The Possible
Riverside, CA, United States
April 24th, 2014
Watch video from the event
Please install flash player to see this video.
View photos from the event on Flickr
About this event
Every day, we imagine, design, and prove what is possible in the world around us. Join us for our first ever TEDxLaSierraUniversity event and be inspired by an unforgettable group of visionaries, designers, and champions of "the possible."
Confirmed Speakers
Warren Peters
Dr. Warren Peters meets his patients every day with a broad smile and a passion to make complex things simple.
Jeff Rosenblum
Jeff Rosenblum is a pioneer, a disruptor, an innovator, and an admitted pain in the rear end.
Leslie Martin
When she is not in the lab or writing about health, she is planning which mountains she will next climb.
Czarina Kaye Francisco
Her passion for music education stems from her belief that children can find joy and confidence through participation in music.
Simply Three
Blending innovative arrangements of classical music with today's popular songs, Simply Three offers a fresh approach and an entertaining program for all ages.

Sterling Spence



Jacek Kugler
Through extensive publications on the causes and consequences of war, he has forged a reputation for innovative formal modeling and empirical analysis.
The Coyote Bandits
Their unique blend of Americana mixes folk, indie, gospel, blues, and bluegrass in search of what it means to be people imagining a better world.
Eric Rajah
Eric Rajah's dream is to see a world without poverty.
Sean Corcorran
Sean Corcorran has more than twenty years of experience in design, engineering, product development, and innovation consulting - working for IDEO, Polyvision, and Steelcase Education Solutions.
Mark Abdollahian
Dr. Abdollahian delivers advanced analytics for data-driven decision-making. His global experience spans corporate strategy, national policy, economic development, finance, public-private partnerships, M&A and business process reengineering. He creates, architects and implements enterprise class data and strategy analytics used by the US Government, the World Bank and the United Nations as well as private sector companies worldwide.
Beatriz Mejia-Krumbein
Her art deals with emigration, displacement, exploitation, violence and abuse, and implores viewers to confront the convoluted inequalities of our modern world.
Azalea Lehndorff
With a life transformed by education, Azalea Lehndorff is passionate about bringing opportunity to girls in Afghanistan.
Organizer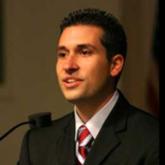 John Razzouk
Riverside, CA, United States
Team
Sarah Jameel

Director, Attendee Experience

Warren Trenchard

Organizing Team

John Thomas

Organizing Team

Yvette Vargas Goltiao

Creative Director

Rachel Pham

Lead Designer

Eduardo Brugman

Technical Director

Heather Miller

Stage Manager

Lovelyn Razzouk

Vendor Coordinator

Tyler Riddle

Technical Advisor

Lorena Salcedo

Social Media Coordinator

Natan Vigna

Event Photographer
---