LaSierraUniversity
x
= independently organized TED event
Theme: The Possible
Riverside, CA, United States
April 24th, 2014
Watch video from the event
Please install flash player to see this video.
View photos from the event on Flickr
About this event
Every day, we imagine, design, and prove what is possible in the world around us. Join us for our first ever TEDxLaSierraUniversity event and be inspired by an unforgettable group of visionaries, designers, and champions of "the possible."
Organizer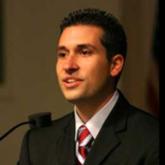 John Razzouk
Riverside, CA, United States
Team
Sarah Jameel

Director, Attendee Experience

Warren Trenchard

Organizing Team

John Thomas

Organizing Team

Yvette Vargas Goltiao

Creative Director

Rachel Pham

Lead Designer

Eduardo Brugman

Technical Director

Heather Miller

Stage Manager

Lovelyn Razzouk

Vendor Coordinator

Tyler Riddle

Technical Advisor

Lorena Salcedo

Social Media Coordinator

Natan Vigna

Event Photographer
---