MountAllisonUniversity
x
= independently organized TED event
Theme: Think Outside the Box!
Sackville, NB, Canada
January 18th, 2014
About this event
This is the 2nd TEDx event here at Mount Allison University! A completely student run day full of inspiring speakers and videos that get you thinking. There will be a variety of ideas from across different disciplines that will be presented, and they all fall under the theme, thinking outside the box.
Confirmed Speakers
RIvers Corbett
Rivers Corbett, MBA is an award winning entrepreneur, speaker, and author of "13 Fears of Entrepreneurs", and founder of The Entrepreneurs Summit. He has received numerous business honors including Entrepreneur of the Year as well as being listed on Canada's Hottest Start-ups List and Canada's Fastest Growing Companies list through Profit magazine...Canada's magazine for entrepreneurs. Rivers is presently a member of Startup Canada's National Advisory Council, founding entrepreneur of StartUP Fredericton & the "Entrepreneur in Residence" at the University of New Brunswick. His real joy and expertise is being a StartUP Advisor and "zagging while everyone else zigs"...like his two newest businesses ventures the Relish Gourmet Burgers restaurant chain and TheRockStar StartUP for StartUP entrepreneurs. Oh... he is also the leader of a team of over 25 chefs through his other company The Chef Group. Not bad for a guy who hates to cook.

Justin Ryan


Justin Ryan is the Public Education and Communications Coordinator for MAGMA (the Multicultural Association of the Greater Moncton Area). Raised and educated in Australia, he combines a background ranging from law, finance and education together with his experiences in living on three continents. This allows him to bring a fresh and unique perspective to share through his cross-cultural skills workshops and multicultural entertainment events. Through this he aims to help create a local society and workforce that is ready and able to help newcomers integrate successfully and become welcome, contributing, thriving members of their new community.

Dr. Christine Chambers


Dr. Christine Chambers is a clinical psychologist, Canada Research Chair in Pain and Child Health, and Professor in the Departments of Pediatrics and Psychology & Neuroscience (with cross-appointments in Anesthesia, Pain Management & Perioperative Medicine and Psychiatry) at Dalhousie University in Halifax, Nova Scotia. Her research lab is based in the Centre for Pediatric Pain Research at the IWK Health Centre. Dr. Chambers' research examines developmental, psychological, and social influences on children's pain, with a focus on family factors in pediatric pain and pain measurement in children. Her research is funded by the Canadian Institutes of Health Research. She is the recipient of career awards from numerous organizations, including the International Association for the Study of Pain's (IASP) Ulf Lindblom Young Investigator Award, given to an individual under the age of 40 who has made significant contributions to clinical pain research. Dr. Chambers has served on the executive committees of the Society of Pediatric Psychology and the Canadian Pain Society, is a member of the editorial board of the Journal of Pediatric Psychology, and was a Mayday Pain and Society Fellow (2012-13). She is a member of the Scientific Program Committee for the IASP's World Congress on Pain in Buenos Aires in 2014 and is an elected Council Member for the IASP Special Interest Group on Pain in Childhood (2014-2019). Dr. Chambers was recently identified as one of the top 10 most productive women clinical psychology professors in Canada. She is also the proud mother of 4 young children.
In-Flight Safety
IN-FLIGHT SAFETY IS HAPPILY BASED IN HALIFAX, NS, CANADA. THE BAND FORMED IN THE SMALL TOWN OF SACKVILLE, NB, DURING THE TWILIGHT OF THEIR UNDERGRAD DEGREES. THEY STUDIED FINE ART, COMPUTER SCIENCES, GEOGRAPHY, COMMERCE AND CLASSICS BY DAY AND TOILED OVER MUSIC ON THE EVENINGS AND WEEKENDS. THEN ONE DAY AN IMAGINABLE THING HAPPENED FOR SUCH A NASCENT GROUP. THEY RECEIVED A ONE LINE EMAIL THAT SAID: "NICE ALBUM". THAT EMAIL WAS FROM DAVID BOWIE IN REFERENCE TO A HANDMADE COPY OF THEIR BASEMENT-RECORDED, YET AMBITIOUSLY CINEMATIC, VACATION LAND EP. THEY HAD FOUND A FAIRY GOD SISTER IN THE FORM OF CANADIAN SINGER SONGWRITER EMM GRYNER. SHE WAS THE ONE WHO HAD SENT THE RECORD TO BOWIE. SHE HELPED THE YOUNG MEN DEVISE A STRATEGY THAT WOULD TAKE THEM BEYOND THE MARSHES OF YE OL' SACKVILLE, NB. YOU SEE, THIS WAS IN 2003. MUCH HAS HAPPENED SINCE. WE CAN'T, NOR WILL WE TRY TO, TELL YOU EVERYTHING BECAUSE THAT WOULD TAKE UP MOST OF THE YOUR DAY. THE CRITICALLY ACCLAIMED VACATION LAND EP ARRIVED IN 2003 AND WAS FOLLOWED IN 2006 BY THE BAND'S DEBUT LP, THE COAST IS CLEAR. THE LATTER WENT ON TO EARN JUNO AND MUCHMUSIC VIDEO AWARD NOMINATIONS AND THREE EAST COAST MUSIC AWARDS, INCLUDING: RISING STAR, ALTERNATIVE RECORDING AND GROUP RECORDING OF THE YEAR IN 2007. THEIR LATEST ALBUM WE ARE AN EMPIRE, MY DEAR (2009) WAS RECORDED IN A 100-YEAR-OLD SCHOOLHOUSE DURING THE DEAD OF WINTER. THE RECORD COMBINES PULSING BASS, SPARSE PIANO, AND HYPNOTIC, POUNDING DRUMS WITH HOOKY GUITARS INADVERTENTLY BATHED IN THE NEON COLOURS OF THE 1980S. ON MODEL HOMES JOHN SINGS PLAINTEVLY "I NEED TO BE ALONE, I NEED TO BE ALONE" BUT THIS ALBUM DOESN'T EXCLUDE. IT'S A CEREMONY OF RICH, TEXTURED EMOTION THAT STEMS FROM THE LAYERED AND ANTHEMIC SONGS ABOUT LOVE OF LIFE, FEARS, AND PARANOIA. YOU SHARE IN THAT FEELING AS YOU LISTEN. SONGS FROM EMPIRE HAVE BEEN PLAYED ON BBC RADIO 2, BBC RADIO 1 AND ALSO FEATURED IN NBC TV'S THE OFFICE AND CHUCK, ABC'S ROOKIE BLUE AND CW'S THE VAMPIRE DIARIES LEADING THE BAND TO NEW LISTENERS AROUND THE GLOBE. THE GROUP TOURED BEHIND THE EFFORT THROUGHOUT CANADA, EUROPE AND THE US, INCLUDING DATES AT THE 2010 WINTER OLYMPICS, CMJ 2010 & 2009 AND THE HALIFAX POP EXPLOSION. 2010 CULMINATED WITH AN INVITATION TO SXSW 2011, AND GREAT ESCAPE FESTIVAL (UK). THE BAND, NOW LEAD BY JOHN MULLANE AND GLEN NICHOLSON, ARE PUTTING THE FINISHING TOUCHES ON THEIR LATEST RECORD DUE OUT IN FIRST QUARTER OF 2014.

Dr. Catherine Lovekin


Dr. Lovekin earned her PhD at Saint Mary's University in 2008 investigating the non-radial oscillation properties of rapidly rotating stars. She was awarded the Plaskett medal for this work in 2009. After graduation, she continued her work on stellar pulsation as a postdoctoral researcher at the Paris Observatory. In 2010, she moved to Los Alamos National Laboratory for another postdoctoral position and began to study more aspects of the lives of massive stars. In particular, she studied the effects of mass loss from radiatively driven winds and the Luminous Blue Variable phase of evolution. In July, she returned to Canada to take up a position as assistant professor in the Physics Department at Mount Allison University. Her research focuses on exploring the lives and deaths of massive stars. These short-lived, often rapidly rotating stars pose significant challenges for numerical models. Dr. Lovekin uses a many-pronged approach to overcome these obstacles, including two-dimensional stellar evolution models and pulsation codes. These tools allow her to investigate the interior structure of massive stars, as well as their mass loss rates and later stages of evolution.

Kylie de Chastelain


Kylie de Chastelain is a fourth-year student currently completing a double major with Honours in Canadian Studies and Sociology at Mount Allison University. Her thesis work examines food security in Canada's North; a topic she developed after spending a month in the Northwest Territories as part of a Field School offered by Trent University this past summer. Kylie's talk explores her experiences living on the land and discovering the North
Organizer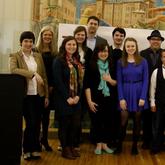 Laura Sponagle
Sackville, Nb, Canada
Team
Jeehan Jawed

Speaker Co-ordinator

Matt Brown

Internal Relations

Brandon Williams

Treasurer

Phil LeBeouf

Team Lead

Rachel Cooney

Advertising

Erika Maxwell

Organizer

Karina De Mello Arantes

Tech Co-ordinator
---