Youth@WellspringLC
x
= independently organized TED event
Theme: In their shoes...
Beirut, Lebanon
May 10th, 2014
Watch video from the event
Please install flash player to see this video.
View photos from the event on Flickr
About this event
A group of passionate, young, motivated and curious students at Wellspring Learning Community came together with a teacher to organize TEDxYouth@WellspringLC: the first TEDxYouth event to take place at a local school in Lebanon, organized by and for the youth.

On May 10th, students, parents, teachers, staff, friends and families gathered to walk a mile in the shoes of our 13 young speakers and performers, who shared their stories of struggle and ideas for change on different topics that will take you on a journey to see the world through their eyes...

TEDx events are immersive experiences. During the break, attendees interacted with robots, crafts, architecture tools and lounged with snacks listening to spoken word poetry by a group of students aged 11 - 18.
Organizer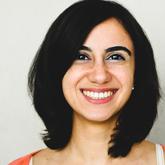 Sara Sibai
Beirut, Lebanon
Team
Noor Shammas

Logistics facilitator

Fouad Shaban

Speakers Team & Host

Baaker Haidar

Logistics Team & Host

Khaled Makkouk

Speakers Team

Chafic Mekkawi

Social Media

Budour Al Issaei

Logistics Team

Nadia Rifai

Registration & logistics team

Nadim Kamel

Designer + photographer

Nour Ali Ahmad

Stage design + social media (photos + short videos)

Saif Younis

Logistics team

Yara Halabi

Speakers team

Tia Hamadeh

Speakers team

Nour El Dana

Speakers team

Nour Sakr

Logistics team

Zein Bdeir

Logistics team

Roula Tawil

Logistics team
---