LaCalera
x
= independently organized TED event
La Calera, Colombia
August 25th, 2013
Watch video from the event
Please install flash player to see this video.
View photos from the event on Flickr
About this event
TEDxLaCalera was held at vereda Jerusalén, in the eastern mountains of La Calera municipality. A farmer community mostly dedicated to milk production will gather to be inspired by ideas, and to network for actions. The event will address topics related to sustainability, rural issues, open source technology, and art.
Confirmed Speakers
Alejandro Feged


PHD Candidate at Stanford University. His work focusses on the influence of cultural practices on health patterns.

Juan Pablo Calderon


PHD in Engineering. Has been working on open source technology, hackers paces, collaboration platforms, happiness and innovation. He organized the first TEDx event in Colombia

Cesar Florian


Musician, left the city to the countryside and founded El Nahal, a permaculture farm and education center for sustainable agriculture.

Camilo Gomez


Founder of Nigayala farm, located at Jerusalen, LaCalera, the community where the TEDx event was held. He works towards sustainable farming systems
Organizer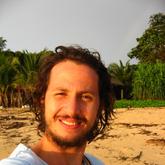 Felipe Spath
Guatavita, Colombia
Team
Ana Tovar

CoOrganizer
---