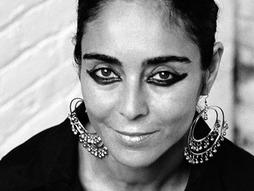 Shirin Neshat
Iranian visual artist
Shirin Neshat has lived much of her life outside her native Iran. Her photographs and films offer a glimpse of the cultural, religious and political realities that shape the identities of Muslim women worldwide.
Why you should listen
Shirin Neshat is among the best-known Persian artists in the Western world. She has lived in the United States, in self-imposed exile from her native Iran, for most of her adult life. This experience, of being caught between two cultures, dominates Neshat's creative work: each of her pieces offers a glimpse into the complex social, religious and political realities that shape her identity—and the identities of Muslim women worldwide.

Neshat's provocative photographs, videos and multimedia installations have resonated with the curators of many major international art exhibitions, including the XLVIII Venice Biennale, where she won the top prize in 1999. Her first feature film, Women Without Men, tells the stories of four women struggling to escape oppression in Tehran. It won her the Silver Lion for best director at the 2010 Venice Film Festival.
What others say
"Walk into a Shirin Neshat film installation and the images seize you: big, memorable, physically beautiful, exploring the role of women in Islamic society in terms of cinematic poetry, so that even the stifling chador becomes powerfully expressive." — The New York Times, July 15, 2002
Shirin Neshat's TED talk
Quotes from Shirin Neshat
Every Iranian artist, in one form or another, is political. Politics have defined our lives.
In this Western world that we have, culture risks being [only] a form of entertainment.