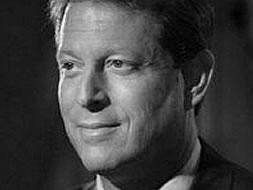 Al Gore
Climate-change prophet
Once the US Vice President, then star of An Inconvenient Truth, now Nobel Peace Prize winner, Al Gore found a way to focus the world's attention on climate change. In doing so, he has invented a new medium — the Keynote movie — and reinvented himself.
Why you should listen
Unlike some in public office, Al Gore always intended to get something done, and since leaving Washington, DC -- following the tumultuous 2000 election -- he's still at it. In fact, his campaign for alerting the world to the dangers of climate change has only gained momentum. His Oscar-winning An Inconvenient Truth is the third most successful documentary ever released at the box office. Gore's famed PowerPoint presentation has drawn in a reluctant public, with its meticulously researched content and lucid style.
Meanwhile, Gore himself has found his footing as a communicator. The once "wooden" style has given way to a warmth and humor that reveal the depth of his experience as a soldier, congressman, senator, veep, TV executive, teacher and author. Arguably, Gore is better positioned today than he has ever been to affect the future of our environment and world.
He was awarded the Nobel Peace Prize for 2007, along with the Intergovernmental Panel on Climate Change (IPCC), "for their efforts to build up and disseminate greater knowledge about man-made climate change, and to lay the foundations for the measures that are needed to counteract such change."
What others say
"The only vice president ever to mock his stiff image by [imitating] a wax-museum figure, Gore turns out to be the best professor you never had -- easygoing, knowledgeable and funny." — Rolling Stone
Quotes from Al Gore
As important as it is to change the lightbulbs, it is more important to change the laws.
Sixty-eight percent of Americans now believe that human activity is responsible for global warming. Sixty-nine percent believe that the Earth is heating up in a significant way. There has been progress, but here is the key: when given a list of challenges to confront, global warming is still listed at near the bottom. What is missing is a sense of urgency.
The struggle against poverty in the world and the challenge of cutting wealthy country emissions, all has a single, very simple solution. … Here it is: Put a price on carbon.