TEDx events for kids and youth bring together educators, organizations, and young people to share exciting new ideas. Some events include live talks and activities, while others are viewing parties for livestreamed or pre-recorded talks from a TED Conference. Speakers can be kids or adults -- our youngest speakers were a class of kindergarteners! Hosting or attending a TEDx event is a great way to engage and inspire kids, and to highlight young voices from diverse communities.
TEDx Clubs
Want a great way to get your school excited about your TEDx event? Start a TEDx Club!
If you're hosting a TEDx event in your school or university, TEDx Clubs are a fun way to organize a group of students who love discussing ideas worth spreading and want to help you plan your event. They're casual, regular gatherings to watch and discuss TEDTalks or plan a TEDx event.
We have hundreds of TEDx Clubs in middle schools, high schools, and universities. We hope yours will be one of them!
TEDx Club Activities
Wondering what you'll do in these fabulous TEDx Clubs? Here are a few of the activities that have worked well in other schools:
Watch and discuss your favorite TEDTalks.
You might try showing TEDTalks around a theme (e.g. creativity or chemistry), or you might ask meeting attendees to suggest a favorite TEDTalk. Whatever you choose to watch, you're bound to have a lively discussion!
Plan a TEDx event
If you have a TEDx event on the horizon, your TEDx Club is the hub of all your scheming and planning. It can be a place to brainstorm and implement new ideas, and to work on getting all the little details -- program design, speaker choices, etc -- ironed out and ready to go.
Work together to reach a goal
Pulling off an effective TEDx event is all about teamwork, so TEDx Clubs are a perfect place to practice those skills. You might brainstorm ideas for an upcoming TEDx event; work with your speakers to perfect their presentations; improve your TEDx event website; come up with a social media communications plan; or discuss how to share ideas worth spreading in your local community. By working together and sharing responsibilities, you'll pull off a standout event.
Practice TED-related skills
Our speakers and organizers have lots of important skills that you can practice in TEDx Clubs. Plan activities that build leadership, presentation, or event organizing skills. (Practice with public speaking can be especially helpful.) Whether you want to be a future TEDx speaker, organizer, or volunteer, you'll develop all the skills you need.
The most important part of starting a TEDx club is creating a place for you and your friends to celebrate ideas in your school....so be creative and have fun!
Guidelines
The name of your TEDx Club should mirror the name of your TEDx event, with a space and then the qualifier "Club". For example, a club for "TEDxIBYork" would be "TEDxIBYork Club."
A teacher/adult advisor should be a part of a TEDx Club, as well as a student TEDx Club leader.
TEDxYouth events can take place in schools or local communities. Teachers, students, and parents often participate, but all community members are welcome. Below are some examples.
TEDxConejo
TEDxConejo was produced in association with the Conejo Valley Unified School District in Southern California, and premiered on March 27th, 2010 -- it was the first TEDx event organized for an entire school district.
The theme of the day, "What's the Big Idea," was divided into three sessions: 'Thinking, 'Doing' and 'Seeing.' Topics included the neuroscience of belief, the principles of meaningful enterprise, ideas in education and learning, effective communication, human behavior and music.
The day was an opportunity for all who attended to gather as peers. The audience consisted of approximately 40% students, 20% educators and 40% general adults who enjoyed talks from adults, seasoned experts, youth, and a selection of TED Talks.
Besides engaging local students, educators and community members in the spirit of TED, TEDxConejo was also a powerful platform for the school district to demonstrate how learning happens beyond the classroom. TEDxConejo is now an annual event that the entire school district looks forward to, and that brings together thinkers and doers of all ages and backgrounds.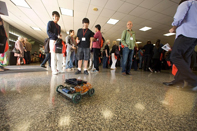 "What a great event all of you put on. Congratulations on what I know was a tremendous effort. I've been going to the TED conference for years, and I felt the TED vibe of curiosity, sharing and excitement as soon as I stepped through the doors." -- Attendee
TEDxKids@SMU
In 2009, Southern Methodist University hosted Dallas' two inaugural TEDx events -- TEDxSMU and TEDxKids@SMU, the first TEDx event designed specifically for young students.
In attendance at the half-day event were over 300 7th- through 9th-grade students from 37 public, private and charter schools. Speakers addressed the theme "What Will Change Everything" and included Amory Lovins, Arthur Benjamin and Rives.
Now a regular event, TEDxKids@SMU is going through a growth-spurt, with goals to increase their audience and the scope of their high school mentoring program; in addition, students have begun giving talks at the event.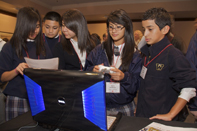 TEDxClassroomProject
TEDxClassroomProject was presented as a six-week project to eighty 10th-grade students to watch, analyze, and reflect upon TED Talks in pursuit of an answer to the question, "What Matters (To Us)?"
Each student individually analyzed a minimum of eight TED Talks, which were often selected at random to inspire discovery and diversity. Students published their reactions to the talks -- both in terms of topic explanation and speaker delivery -- as individual blog entries on one group site. Comments on these blog posts came from fellow students, and a few TED speakers joined in too.
The final project was a five-minute TED-like talk given by each student on a subject of their choosing. To prepare, students watched TED Talks and analyzed slide deck design and speaking style; TED speakers also chatted with the students via Skype.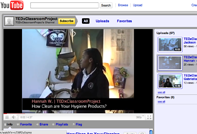 "TEDxClassroomProject has confirmed it. I'm no longer an 'English teacher.' Instead, I am an 'agent,' 'social media DJ' and 'publisher' for my kids." -- Christian Long, organizer