CasablancaSalon
x
= independently organized TED event
Theme: Rendons-nous utile !
Casablanca, Morocco

Venue and Details
New Work Lab
​ 17 rue Najib Mahfoud
3ème Etage, Place Ollier
Casablanca, 20000
Morocco
More about the venue »
This event is invite-only. Tickets are available.
Ticketing policies vary by event.
---
About this event
Le TEDxCasablancaSalon est un évènement mensuel, payant (50Dh) et sur invitation (30 personnes) qui réunit des passionnés de l'univers TED. C'est un moment privillégié et ludique que nous avons mis en place cette année.

Pendant ce salon nous recevons un speaker et regardons des vidéos TED autour d'une collation. Le talk du speaker local, les vidéos et la collation ouvrent ensuite sur un temps de discussion entre les participants.
Organizer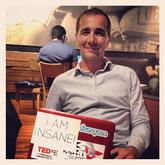 John Toutain
Casablanca, Morocco
Team
Eléonore Essomba

Co-Organisatrice TEDxCasablancaSalon

Ali Beddiyouh Med

Co-Organisateur TEDxCasablancaSalon