Nice
x
= independently organized TED event
Theme: Synergie : Le rebond de l'humain
Nice, France
October 19th, 2013
Watch video from the event
Please install flash player to see this video.
View photos from the event on Flickr
About this event
Cette année notre thème fédérateur est Synergie : Le rebond de l'humain. Nos speakers selon leurs références nous donnerons leur version de la synergie comme valeur d'avenir. Le choix du sujet n'est pas arbitraire. Nous sommes témoins aujourd'hui d'une révolution numérique qui a donné une place privilégiée à l'interdisciplinarité des savoirs à leur diffusion sans barrière de frontières. Auparavant, une réussite accomplie, c'était de réussir sa vie professionnelle dans un domaine pointu, or l'avènement de nouveaux métiers a prôné la polyvalence des profils et la diversification des connaissances par TED.
La synergie crée une richesse, une diversité pouvant offrir des solutions alternatives pour faire évoluer positivement les différents comportements, actions pour cohabiter dans notre planète Terre. Elle permet de mettre en oeuvre des projets humains et entrepreneuriaux ambitieux sous des valeurs différentes, notamment celle de la collaboration des savoirs en remettant l'homme au coeur des objectifs.
Organizer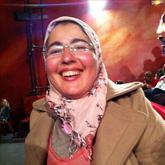 Touria Dahak
Nice, France
Team
Cécile Talec

Co-organizer
---