Hapjeong
x
= independently organized TED event
Theme: Curating Environment
Seoul, South Korea
January 16th, 2014
Watch video from the event
Please install flash player to see this video.
View photos from the event on Flickr
About this event
Hapjeong is a place where publication professionals, editors, designers, and artists collide to each other. We would like to spread out valuable knowledge curated by everyday lives at the center of Hapjeong.
Confirmed Speakers
Sang-A Kim
Bombaram CEO

Min-Gi Kim


Chief of ILog

Hyo-Gwan Jeon


Haja Center Vice Dean

Sung-Kook Shin


Hugin CEO
Organizer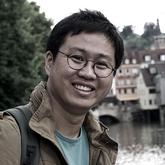 Park Juhun
Seoul, South Korea
---