DelftSalon
x
= independently organized TED event
Delft, Netherlands
February 20th, 2013
Watch video from the event
Please install flash player to see this video.
View photos from the event on Flickr
About this event
TEDxDelftSalon: small, monthly events that take place in the Orange Room at TU Delft Library. One TED talk, one live speaker and a discussion afterwards.

TEDxDelftSalon will take place during lunchtime (sandwiches will be provided) from 12.30 until 13.30. All talks will be in English and registration is mandatory.

Confirmed Speakers
Robin Sontheimer


Robin Sontheimer is a 'strategic designer' studying at TU Delft, currently writing his Master Thesis on new ways of political participation. His favourite question is 'why...?' and he believes that if nowadays everything is possible, the opposite is too.
Organizer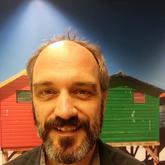 Rob Speekenbrink
Delft, Netherlands
Team
Leste Lardenoye

Program manager

Els Koppelman

project manager
---