Canberra
x
= independently organized TED event
Canberra , Australia
October 23rd, 2010 - October 24th, 2010
View photos from the event on Flickr
About this event
TEDxCanberra is about "Thinking Way Beyond" What might be the best or ultimate state of our society, technology or lives should we get there? How should we do that? Why should we? How do we make it happen?
Confirmed Speakers
Kristin Alford
Kristin Alford explores the role of emerging technologies in broader social contexts, communicating their value to the wider community.

Ed Bosworth


Ed Bosworth is looking to ensure we don
William DeJean
William believes education can birth new consciousness for humanity and hopes you do too

Ash Donaldson


Think you know what you think? Ash Donaldson will show you you have no idea what you know or think.
Sunny Forsyth
Working to bring clean water to the world, Sunny Forsyth helps bring the skills and tools needed to the communities he works with.
Miriam Lyons
Miriam Lyons takes a look at remaking Australian culture, for want of a smaller topic.
Pat McGorry
2010 Australian of the Year, Professor Patrick McGorry is a leading international researcher, clinician and advocate for mental health reform.
Dawn O'Neil
Dawn O
Marco Ostini
Marco Ostini want us in space; there are big questions there that need answering.
Francis Owusu
With Kulture Break, Francis Owusu is starting a movement that will break down barriers and negative views.
Mark Pesce
Mark Pesce will get you thinking about what our hyperconnected future means
Julie Posetti
While she
Will Steffen
Climate change is rapidly becoming the defining challenge for humanity in the 21st century. Will Steffen leads the fight from the side of science.
Simon Taylor
Belief. Disbelief. What
Mitchell Whitelaw
Digital preservation of visual cultural assets in new ways makes Mitchell Whitelaw
Pete Williams
Pete Williams wants to change the way we think - creativity for the betterment of society - to rebuild damaged communities.
Organizer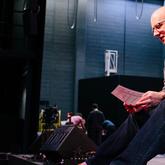 Stephen Collins
Canberra, Act, Australia
Team
Nathanael Boehm

Photographer, runner

Lauren Cochrane

Runner, printing, logistics

Allison Denny-Collins

Audience wrangler, project manager

Hannah Denny-Collins

Presenter wrangler

Ruth Ellison

Check-in manager, runner

Michael Honey

Tech wrangler

Clare Irwin

Catering, runner, team house-mother

Darren Menachemson

Visualiser and historical recorder

Gavin Tapp

Signage, photographer

Chee Ching

Runner

Corinne Patterson

Runner

Paul Liddelow

Runner

Brad Jessup

Runner
---