Detroit
x
= independently organized TED event
Detroit, United States
September 29th, 2010
Watch video from the event
Please install flash player to see this video.
View photos from the event on Flickr
About this event
The area's leading creators, catalysts, entrepreneurs, artists, technologists, designers, scientists, thinkers and doers gathered on Wednesday, September 29th to share what they are most passionate about — positive ideas for the world from Detroit.

Confirmed Speakers
Erik Proulx
Self-proclaimed former ad brat, Erik Proulx is the founder of Please Feed the Animals, a blog for aspiring entrepreneurs and the recently unemployed. He is also the director and producer of two documentaries, Lemonade and Lemonade: Detroit.
Geoff Horst
Algal Scientific Corporation is a start-up company that formed as the result of a failed engine in Lake Erie. With a passion for natural waters and problem solving, Geoff works with Algal using algae to treat waste water.
Jessica Care Moore
Jessica is an internationally renowned poet, author and performer. She is the founder of Moore Black Press and the jess Care moore Foundation.
Organizer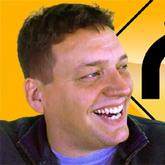 Charlie Wollborg
Troy, MI, United States
---