TurgenevLibrary
x
= independently organized TED event
Theme: What Does History Teach Us
Moscow, Russian Federation
April 20th, 2012 - April 21st, 2012
Watch video from the event
Please install flash player to see this video.
View photos from the event on Flickr
About this event
What does history teach us? What precious information can we get from past of mankind and earth for our movement to future? What experience can we gain from local and personal histories? Can we learn some lessons basing on lessons of past? Are technologies of past to help us nowdays? We are trying to answer on these questions basing on best TED Talks with 'History' tag
Чему нас учит история? Что можем извлечь из прошлого человечества и земли, для того чтобы двигаться в будущее? Какую ценную информацию из локальных и личных историй мы можем извлечь для своего народа и человечества в целом? Можем ли мы чему-то научиться на ошибках и достижениях прошлого? Как нам могут помочь технологии прошлого? Обо всем этом -в показе лучших роликов TED talks с тегом «история»- только один раз, только- в библиотеке-читальне им Тургенева и только -в рамках Всероссийской акции «Библионочь» Не пропустите наш видео-лаундж.
Confirmed Speakers
Alexander Vershinin
Alexander Vershinin is Russian Historian, PhD, specialist on new and newest history of France He graduated of Moscow State University, had fellowship in Sorbonne University (France)
Venue and Details

​ Бобров пер., д. 6, стр.1,2
Moscow, 101990
Russian Federation

April 20th, 2012, 10:00pm - April 21st, 2012, 1:00am (GMT 4)
This event occurred in the past.
See more TEDxTurgenevLibrary events »
Organizer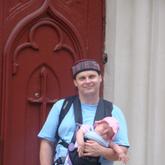 Andrey Lisitsky
Moscow, Russian Federation
Team
Alexandra Vakhrusheva

Co-organizer

Anna Trofimenko

PR-manager

Alexey Chuvilsky

Producer

Vadim Moskalev

Technical Director
---