Trieste
x
= independently organized TED event
Theme: Complex Actions
Trieste, Italy
January 27th, 2012
About this event
Confirmed Speakers
Luca Cordero di Montezemolo


Born in Bologna in 1947, he graduated in Law from the University of Rome. He continued his studies at the Columbia University in New York and specialized in International Commercial Law. He started his career working with the Chiomenti law firm in Rome and then joined Bergreen & Bergreen in New York. Between 1973 and 1977, he worked as Assistant to Enzo Ferrari and Team Manager of the Maranello racing team, winning two Formula 1 world driver's championships with Niki Lauda in 1975 and 1977.

Between 1977 and 1981, he was Senior Vice President of External Relations of the Fiat Group. Between 1981 and 1983, he served as Chief Executive Officer of Itedi S.p.A., the holding company for all Fiat Group publishing activities, including the daily newspaper La Stampa. From 1984 to 1986, he was Chief Executive Officer of Cinzano International S.p.A. in Geneve and in charge of organizing Azzurra, the first Italian yacht to compete in the America's Cup. From 1986 to 1990, he was General Director of the Organizing Committee of the 1990 Italian World Cup Football Championship. From 1990 to 1991, he was Chief Executive Officer of RCS Video and a Member of the Board of Directors of TF1, the most important French television channel.

Mr. Montezemolo is Chairman of Ferrari S.p.A. since 1991 and has been also its Chief Executive Officer until 2006. He served as both Chairman and Chief Executive Officer of Maserati S.p.A. from 1997 to 2005 and President of Confindustria and of the Bologna International Trade Fair from 2004 to 2008. He has been Chairman of Fiat S.p.A. and President of LUISS University from 2004 to 2010. He is Chairman and one of the main shareholders of NTV (Nuovo Trasporto Viaggiatori), first Italian private high-speed railway company and since July 2009 he is President of Telethon. In 2009 he founded the Association Italia Futura, established to promote civil and political debate on the future of the Italian country, with the help of numerous members of the Italian civil society. He served as President of the Industrialists of the Province of Modena for 6 years, until June 2002, and President of FIEG — Federazione Italiana Editori Giornali (Italian Newspaper Publishers Association) until July 2004. He is also a Cavaliere del Lavoro and in 2008 he was awarded the Legion d'Honneur by the President of the French Republic.

In 2001 he was elected "man of the year" by "The Automobile", the most important US automobile magazine, and in 2002 by "Autocar", the prestigious English magazine. He was nominated by "Financial Times" as one of the fifty best managers in the world in 2003, 2004 and 2005. He was awarded five honorary degrees: in Mechanical Engineering by the University of Modena, in Combined Business Management by the CUOA Foundation of Vicenza, in Business Management by the University of Genova, in Industrial Design by the Politecnico of Milano and in Physics of Materials by SISSA (International School for Advanced Studies) of Trieste. He is a Member of the Board of Directors of Fiat SpA, La Stampa, the luxury French Group PPR (Pinault/Printemps Redoute) and Tod's. He is on the General Council and Executive Committee of Assonime. He is a Member of the International Advisory Board of Citi Inc.

He was the founder of Charme, a financial-entrepreneurial fund which was used in 2003 to acquire Poltrona Frau, one of the most renowned Italian companies active in the furniture field of which he is also a Member of the Board of Directors, then followed by the acquisition of the Cassina, Cappeilini and Thonet brands and in 2004 by Ballantyne, the historic international cashmere brand.

Eric Ezechieli


Eric Ezechieli - Co-founder and President of the Natural Step Italy, part of the international for benefit (entrepreneurial non profit) The Natural Step, Rocky Mountain Institute Ambassador, Graduate Studies Program alumnus and network member of Singularity University, NASA Ames Research Park, Silicon Valley. Co-founder of the Italian Learning Cities and 2020 associations. Eric Ezechieli is reference in Italy and at the international level for innovation and strategic leadership towards sustainability. He helps the top levels of primary businesses and public administrations develop their competences to create a future of social cohesion, environmental beauty and excellence, and economic prosperity.

Ezechieli holds a BA in Business Administration from Bocconi University, Italy, and a Master of Arts in International Comparative Education (Learning for Sustainability) from Stanford University, California, where he researched on the balance between humans, nature and technology. Educated about Natural Capitalism and Biomimicry at Schumacher College, UK, and Rocky Mountain Institute, Colorado. Eric Ezechieli has earned his experience in corporations, the public sector, education, and small-medium enterprises, in over 25 countries (cooperation with executives of diverse organizations, including: Autogrill, Nestlé Waters, Lombardy Government, Riello, Confindustria-Italian Industry Association, Venice Cà Foscari Business School, Milan Catholic University School for Business and Society, Interface Inc., Ferro, Rohm & Haas, Aquafil). Visiting lecturer in Italy leading universities, he consults and teaches regularly across Europe.
Organizer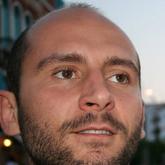 Riccardo Sabatini
Trieste, Italy
Team
Stefania Quaini

Co-organizer

Vanni Lughi

Co-organizer

Roberto della Marina

Co-organizzatore
---