Berlin
x
= independently organized TED event
Theme: Crossing Borders
Berlin, Germany
November 23rd, 2012
View photos from the event on Flickr
About this event
What limits and borders are we faced with as individuals, as a society? Who or what defines these boundaries? What are the results of these demarcations – demarcations as barriers that may even result in scientific and artistic limitations to us singular persons and society as a whole? Are they arbitrarily defined borders or are they erected due to their necessity? Are they obstacles or are they beneficial? And what happens if we overcome these borders?

TEDxBerlin "Crossing Borders" is going to ask these questions and attempt to find diverse answers. We will meet "border-crossers". We will meet artists, scientists, activists and athletes that dare to cross borders and have undergone life-changing experiences – individuals that create a link between separate aspects and phenomena. Personalities that have the ability to extend the space of the achievable and that alter our perspectives and attitudes as well as our perception of reality.

The word "multidisciplinary" has become a focal topic of discussion within the fields of science and the arts during the last two decades: multidisciplinary research, multi-medial art, cross-medial communication – these areas have managed to cross previously existing borders and they underline the necessity of eliminating restricting boundaries. Moreover, the arts and sciences have always been border-crossing fields, as much during history as of today.

Where and what are these borders today and who calls them into existence? What are the motivations of border-crossing individuals? TEDxBerlin "Crossing Borders" wants to provide insight into these motives and aspects and provide a platform for deep discussion.

Join us on November 23rd at the Haus der Kulturen der Welt from 10am until 6pm.
Confirmed Speakers
John Bunzl
We won't solve problems with the same thinking that created them. – Albert Einstein With his simple, yet powerful new vision for global governance: simultaneous policy action (Simpol), John Bunzl's Simultaneous Policy Organisation (ISPO) allows citizens around the world to use their votes in a completely new way to solve global problems like financial market regulation, global warming, environmental destruction, war, and social injustice. With the founding of ISPO in 2000, the Simpol campaign was launched, which is now operating in more than 20 countries around the world. With hundreds of politicians worldwide supporting Simpol's democratic approach, ISPO hopes to overcome global, political paralysis so that economic justice, environmental security and peace around the world are achieved.
Fabian Sixtus Körner
Travelling the world for two and a half years, Fabian Sixtus Körner describes himself as a multidisciplinary creative enthusiast who doesn't stick to one profession. A "new age design travelling journeyman", Fabian is a designer, photographer and architect all rolled into one. He has curated exhibitions in India, shot documentaries in the US, photo-shoots for Vogue Italy and is currently working on a book about his travel experiences that will be released next year. Currently living in Berlin, his border crossing both physically and professionally has won him the German Webvideo Award for his work "The Bollywood Movie Star".
Alexander Görlach
At only 34 years old, Alexander Görlach has crossed an impressive array of borders, both physically and with his journalistic work. He is the founder, publisher and editor-in-chief of The European Magazine and was previously widely active as a journalist for numerous German publications and Television Channels such as the Frankfurter Allgemeine Zeitung, the Süddeutsche Zeitung and ZDF, amongst many other. He has also spent several years studying in the US, the UK, Italy, Egypt and Turkey. Holding a PhD in theology and in philology, he gives lectures on digital media at several universities throughout Germany. Listen to his life-changing experiences at TEDxBerlin "Crossing Borders" on November 23rd!
Carolina Gonzalez-Bunster
Following successful careers as a financial analyst and as part of the William J. Clinton Foundation, Carolina Gonzalez-Bunster founded the Walkabout Foundation in 2010, which has, since inception, donated nearly 3,000 wheelchairs to countries such as Haiti, the Dominican Republic, Chile, and many more, as well as donating millions of dollars in research to leading scientific centres around the United States in search for a cure for paralysis. Prompted by her brother's tragic car accident, which left him paralysed from the neck down, she has made it her mission to dramatically alter the lives of those affected by paralysis by simply giving them access to a wheelchair.

Ben Scott


As a Senior Advisor to the Open Technology Institute at the New America Foundation in Washington DC and a Visiting Fellow at the Stiftung Neue Verantwortung in Berlin, Ben Scott has been concentrating on new media and expanding affordable access to an open Internet as well as fostering more public service journalism. Previously he was Policy Advisor for Innovation to Secretary of State Hillary Clinton, where he helped steward the 21st Century Statecraft agenda, which aims to unite the aspects of an interconnected world with traditional foreign policy tools. For six years he also headed the Washington office for the NGO Free Press. At Free Press, the largest non-profit organization in the US, he dealt exclusively with media and communications policy. There, he headed a team of lawyers, researchers, and advocates and strived to reform the landscape of media in relation to politics.
Alonso Dominguez
Alonso Dominguez is the co-founder and creative director of sugarhigh, an online publishing company and creative consultancy agency. Originally from Mexico City, he has called New York, Paris, London and Shanghai home. Currently based in Berlin, Alonso is presently dedicated to consulting companies and brands on creating a relationship to of-the-moment culture across a multitude of creative arenas. For his TEDx Talk, Alonso will be discussing the "topography of cool"; how something becomes culturally relevant. He is constantly working on understanding and analysing the intricacies of contemporary culture - the places and people at the helm and their timing.
Jon "Maddog" Hall
Jon "Maddog" Hall is the Executive Director of Linux International, an association of computer users who wish to support and promote the Linux Operating System. During his career in commercial computing, which started in 1969, Jon Hall has been a programmer, systems designer, systems administrator, product manager, technical marketing manager, author and educator. He is an advocate of free and open-source software, on which he consulted the governments of China, Malaysia and Brasil as well as the United Nations and many local and state governments. He currently works as an independent consultant as well as bringing environmentally friendly computing to emerging marketplaces through Project Cauã.
Sven Helbig
Sven Helbig has composed and produced music for a wide range of artists such as Rammstein, the Pet Shop Boys, Snoop Dogg, opera singer René Pape, and Fauré Quartett, amongst many others. He is the founder of the Dresdner Sinfoniker and has composed numerous, highly acclaimed productions such as the multimedia-project "Mein Herz brennt" or the "High-Rise Symphony" for Dresden's 800th anniversary. In February of 2013 the two-time ECHO Award winner will release his first solo album on Deutche Grammophon as Fauré Quartett's and the MDR Sinfonieorchester's composer.
Yahay AlAbdeli
"After so many years of wars and living in a dictatorial regime, facing challenges every day, I want to show the world that we have enough talent and energy to build a new future." Forced to flee Iraq in 1979, Yahay AlAbdeli's family was torn apart by the onset of the Iraq war. Carrying his 90-year-old mother for three days over the border to Iran, Yahay's father managed to eventually find his family. Reunited, they moved to Sweden, which became their new home. Inspired by an Arabic-language TEDx event, Yahai returned to Iraq after 34 years to successfully set up TEDxBaghdad. He currently lives in Amsterdam.
Michael Poliza
After a successful acting career and founding an IT business, Michael Poliza went on to become one of the world's most prolific wildlife photographers. Initiating the Starship Millennium Voyage project, Poliza travelled the world on the Starship boat, documenting the state of the world's wild locations at the turn of the millennium. His work has been published in eight highly acclaimed books, featuring images from all over Africa to Antarctica. In December 2009 he was named as an ambassador of the World Wildlife Fund (WWF).
Andrea Kolb
Andrea Kolb is Chair-Woman of "ABURY", a sustainable fashion business and Member of Executive Board 2bd1. Combining a sense of social responsibility with keen marketing abilities, Andrea and her team are uniting indigenous cultures and their traditional skills with today's globalised world under the umbrella of "ABURY". Her goal is to create a global sense of respect, trust and understanding between the numerous cultures that coexist today.
Diana Nyad
At 62-years-old, Diana Nyad literally took the plunge and attempted to swim the 103-mile-stretch between Cuba and Florida. Having won the world record as greatest long-distance swimmer back in the 1970s, she decided to challenge herself yet again. With deadly jellyfish, thunder- and lightning storms, as well as sharks threatening her life, she was forced to subsequently quit. After two attempts and a combined 92 hours and 5 minutes of swimming, a third attempt to reach Florida's shores is only a matter of time.
Fauré Quartett
"The Fauré Quartett is right up there with the best ensembles you can listen to today" - Harald Eggebrecht, Süddeutsche Zeitung Within just a few years, the Fauré Quartett, composed of Dirk Mommertz (piano), Erika Geldsetzer (violin), Sascha Frömbling (viola) and Konstantin Heidrich (cello), has established itself as one of the world's leading piano quartets. Visionary and highly acclaimed experimental chamber music performances outwith the mainstream repertoire have had them collaborating with artists such as Rufus Wainwright and Sven Helbig. The Fauré Quartett has performed in world famous clubs such as the Berghain, the Cocoon Club and the world's most renowned chamber music venues such as the Concertgebouw Amsterdam, the Alte Oper Frankfurt and the Berliner Philharmony, amongst many others. Their audience encompasses all ages and nationalities, allowing for them to not just cross borders professionally but to also break down cultural barriers.
Thomas Petzold
Thomas Petzold is a social technology researcher who looks at how people's lives are altered by technological and social change. He is challenging the boundaries of current thinking by sharing his passion for provocative and meaningful arguments and crossing personal and cultural borders by working and living in Australia, Bulgaria, Russia and the UK. He is currently a Research Fellow and Project Leader at the Social Science Center in Berlin and the Centre of Excellence for Creative Industries and Innovation in Brisbane, Australia.
Peter Fenwick
The term "crossing over" symbolises death or near death-experiences, a topic of research that has particularly fascinated Consultant Neuropsychiatrist emeritus Peter Fenwick. Together with his wife, he has co-authored several books on the topic, carrying out research in the UK, Holland and Japan. Additionally, his interest in brain function and the problem of consciousness have been extensively researched. For twenty years he ran the Epilepsy Unit at the Maudsley Hospital and is currently the Honorary Senior Lecturer at the Institute of Psychiatry and Southampton University as well as the Honorary Consultant Clinical Neurophysiologist at Broadmoor Hospital.
Anwar Dafa-Alla
Anwar Dafa-Alla was born in Port Sudan in 1978. He is passionate about developing intellectual communities, especially in Sudan. He believes that developed nations should provide education and technological knowledge and support rather than financial aid to the developing countries. When hearing Neil Turok's talk "African Einstein", he was so motivated that he started to translate TED talks into Arabic in order to spread influential and impelling talks among the Arabic-speaking populations in particular those in Sudan. He is the only person who has translated over 770 TED talks through the TED Open Translation Project. In 2011 he organized the first TEDxKhartoum event and has spoken at numerous other TEDx conferences as well as TED Global.
Brandalism
Following on from the guerilla art traditions of the 20th Century and taking inspiration from the Dadaists, Situationists and Street Art movements, the Brandalism project involved one of the largest reclamation of outdoor advertising space in UK history as artists challenged the advertising industry. The Brandalism crew, headed by Simon Templeton and Joe Elan, sees artists stepping outside the boundaries of daily life, law and comfort to challenge the authority and legitimacy of the advertising industry within our streets and our culture, taking back one billboard at a time.
Fetsum
Intimate and life-affirming: folk singer Fetsum's music is inflluenced from soul, Mali Mande music, folk and rock to reggae. Being the child of Eritrean revolutionists, he has boiled his experiences down to elements that offer hope, joy and comfort. He has held over 160 live performances across Europe, partnering with acts such as Estelle,Peter Fox, Söhne Mannheims, Patrice and K'NAAN, amongst many others. Now based in Berlin, he has recorded his long-awaited debut album The Colors Of Hope.
Zan Lyons
Violinist, producer and filmmaker Zan Lyons' stunning shows have received critical acclaim across the globe and have marked him as one of the most distinctive audio/visual performers to date. Using his laptop and custom foot-pedals, Zan loops his violin, voice and sounds, while manipulating his haunting visuals to incredible effect. A one-man-army, he directs, shoots, edits, and lights all of his films himself as well as doing all of the complex animation and visual effects work. He has received nominations from Lux and the London Short Film Festival and screenings on MTV2 as well as the Cannes, onedotzero and Raindance Film Festivals. From performing with Chris Clark, co-ordinating a 100 piece choir and string octet to currently collaborating with Atari Teenage Riot, his artistic limits know no bounds.
Organizer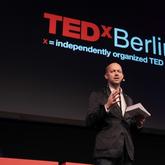 Stephan Balzer
Berlin, Germany
Team
Sophia Schwan-McMaster

Website and Social Media Administrator
---