DelftSalon
x
= independently organized TED event
Delft, Netherlands
April 25th, 2012
Watch video from the event
Please install flash player to see this video.
View photos from the event on Flickr
About this event
TEDxDelftSalon is powered by TU Delft Studium Generale.

The Salons will take place at TU Delft campus, monthly recurring events (starting in February) and are small: one TED.com talk, one live speaker and a discussion afterwards. All this in lunchtime (lunch will be provided). All talks will be in English.
Confirmed Speakers
Roeland Heerema
Popular music comes and goes, and classical composers were once the pop stars of their time. Still, it is remarkable that we continue to perform their music. It does appear, however, that it has become a "left-wing hobby" for the elderly. The new generation has largely got no affinity whatsoever with classical music – apart from what they know from weddings, funerals, or the occasional movie. Welcome to the TEDxDelftSalon: small, monthly events that will take place at TU Delft Library. One TED talk, one live speaker and a discussion afterwards. TEDxDelftSalon will take place during lunchtime (lunch will be provided) on Wednesday 25 April from 12.30 until 13.30. All talks will be in English and registration is mandatory. We see classical concerts take new forms, but it will never become extinct because of its intrinsic power. The power of classical music relies not only in its beauty and in how it never fails to express human emotions, but also in the physiological effects on the body. Both research and inspiring anecdotes show that music immediately affects the brain. Now it is up to us, the new generation, to benefit from it and to determine the future of the past. In 'A Beautiful Addiction', ideas are offered to enhance your life with the purest form of art there is. Roeland was a student of Aerospace Engineering at the TU Delft. He now studies Journalism and Rhetoric at Leiden University and is an fanatic visitor of classical concerts. Having no experience in making music himself, he considers listening to it as a hobby on its own. "It's a beautiful addiction that I want to share!"
Additional Links
TEDTalks shown
Organizer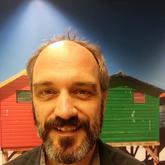 Rob Speekenbrink
Delft, Netherlands
Team
Els Koppelman-Valk

Program manager

Lester Lardenoye

Speaker liaison
---