MidAtlantic
x
= independently organized TED event
Theme: Be Fearless
Washington, DC, United States
October 26th, 2012 - October 27th, 2012
View photos from the event on Flickr
About this event
When we stop worrying about what might go wrong, we discover what is truly possible. We celebrate the stories of the people who weren't afraid to fail, who overcame the odds, and persisted when the outlook was bleak.

We'll embark on a journey filled with stories, songs, and lessons-learned – and the inspiration of those who have demonstrated what is possible when we set aside our fears, act boldly and urgently, and learn from our mistakes.
Confirmed Speakers
Colin Powell


Colin L. Powell was appointed Secretary of State by George W. Bush on January 20, 2001, after being unanimously confirmed by the U.S. Senate. He served for four years, leaving the position on January 26, 2005. He was the first African-American to serve as Secretary of State.

Jose Antonio Vargas


Jose Antonio Vargas, an award-winning multimedia storyteller, is the founder of Define American, a campaign that seeks to elevate the conversation around immigration. Born in the Philippines, Vargas immigrated to the United States at age 12. Stunning the media and political circles and attracting world-wide coverage, Vargas wrote the groundbreaking essay, "My Life as an Undocumented Immigrant," for the New York Times Magazine in the summer of 2011. A year later, he was the author (and subject) of a cover story for TIME magazine headlined "We are Americans — just not legally."

Charity Tillemann-Dick


Charity Sunshine Tillemann Dick is an American-born soprano. She has performed in opera houses and concert halls across the United States, Europe, and Asia. Charity is also a survivor of a double lung transplant, which she received at the Cleveland Clinic in September 2009. She continues to sing professionally and also shares her remarkable story of triumph, determination, and love for music.

Adrian Bejan


Adrian Bejan is most recently the author of "Design in Nature: How the Constructal Law Governs Evolution in Biology, Physics, Technology, and Social Organization." He is also a professor of engineering at Duke University. Bejan pioneered numerous original methods in science, including the constructal law of design and evolution in nature, entropy generation minimization, scale analysis of convection, heatlines and masslines, transition to turbulence, and designed porous media. He is listed among the top 100 most widely cited engineering authors in the world (all disciplines, all countries, living and deceased). Bejan has published 530 peer-reviewed articles and 24 books and has been awarded 16 doctorates Honoris Causa from universities in 11 countries.

Jack Andraka


Jack Andraka is a fifteen year old freshman at North County High School and lives in Crownsville, Maryland. He recently developed a novel paper sensor that could detect pancreatic, ovarian, and lung cancer in 5 minutes for as little as 3 cents. He conducted this research at Johns Hopkins University. He is also on the national junior wildwater kayaking team, has won awards at multiple national and international math competitions, and enjoys playing with his dog and folding origami.

Theo Colborn


Theo Colborn is Founder and President of The Endocrine Disruption Exchange (TEDX), based in Paonia, Colorado, and Professor Emeritus of Zoology at the University of Florida, Gainesville. She is an environmental health analyst, and best known for her studies on the health effects of endocrine disrupting chemicals. Dr. Colborn's work has prompted the enactment of new laws around the world and redirected the research of academicians, governments, and the private sector.

Alec Ross


Alec Ross is Senior Advisor for Innovation to Secretary of State Hillary Clinton, a role created for him that blends technology with diplomacy. As Secretary Clinton's "tech guru," Ross is leading the State Department's efforts to find practical technology solutions for some of the globe's most vexing problems on health care, poverty, human rights and ethnic conflicts. In 2010 Ross was named one of 40 leaders under 40 years old in International Development, and Huffington Post included him in their list of 2010 Game Changers as one of 10 "game changers" in politics.

Antrim Caskey


Laura Antrim Caskey is an award-winning independent photojournalist based in Rock Creek, West Virginia. Caskey is known for her work Dragline, a self-published photojournalistic exposé, designed to educate and activate, on the human and environmental costs of mountaintop removal coal mining in Appalachia, to which she has dedicated years of work. Her photographs have been published in the New York Times, Rolling Stone, Boston Globe, Smithsonian, Nature; featured in documentary films including The Last Mountain; and currently on exhibit in "One Earth," at Fovea in Beacon, NY.

Barbara Van Dahlen


Barbara Van Dahlen, named to TIME magazine's 2012 list of the 100 most influential people in the world, is the founder and president of Give an Hour. A licensed clinical psychologist who has been practicing in the Washington, D.C., area for 20 years, she received her Ph.D. in clinical psychology from the University of Maryland in 1991.

Erica Saben


Erica began performing on professional stages at the age of 12. Her circus career began by accident when she was spotted on stage at the Academy of Music in 2007 by the Give and Take Jugglers. Erica still performs with the Give and Take from time to time as a wire walker, aerialist, obscure puppeteer, and juggler. She has been a tightwire instructor at the Philadelphia School of Circus Arts since its inception, and is the founder and director of Charm City Movement Arts in Baltimore. Erica graduated cum laude from SUNY Brockport with a BS in Dance and Political Science, and received the Political Science Outstanding Student Award as well as the All American Scholar Award.

LTG Mark Hertling


Lieutenant General Mark Phillip Hertling, is the Commanding General, US Army Europe and Seventh Army. In that role, he is the commander of the approximately 42,000 U.S. Army forces assigned to Europe, and he is the Army Component Commander of U.S. European Command. While Hertling's primary role is training U.S. Army soldiers and units for Contingency and Full Spectrum Operations, he is also responsible for Theater Security Cooperation and Building Partner Capacity with the 51 allied nations that are part of the European area of operation.
Venue and Details
Sidney Harman Theater
​ 610 F Street Northwest
Washington, DC,
United States

October 26th, 2012, 10:00am - October 27th, 2012, 6:00pm (GMT -4)
This event occurred in the past.
See more TEDxMidAtlantic events »
Organizer
Dave Troy
Baltimore, MD, United States
Organizer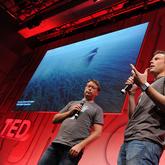 Nate Mook
New York, NY, United States
Team
James Pan

Organizer

Jennifer Troy

Organizer

Matt Koll

Organizer
---