FoCo
x
= independently organized TED event
Theme: The Art of Inspiration
Fort Collins, CO, United States
September 22nd, 2012
Watch video from the event
Please install flash player to see this video.
View photos from the event on Flickr
About this event
We've aimed for a speaker line-up that cuts across age and gender, including both the prominent and well-known in Northern Colorado as well as those who are making a difference beneath the radar. From the musically gifted to the artistically talented, the visionaries of knowledge and the pioneers of tomorrow's collaborative cities, and those who operate with the sleight of hand and the tricks of the mind. People who are shifting the edge and challenge conventional thinking by inspiring themselves and others to act. Every talk will be presented by someone who's done the life's work needed to share a TEDx talk.
Organizer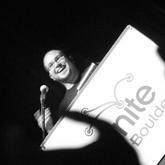 Nick Armstrong
Fort Collins, CO, United States
---