Malibu
x
= independently organized TED event
Theme: Flourishing in the New Paradigm
Malibu, CA, United States
November 13th, 2011
Watch video from the event
Please install flash player to see this video.
View photos from the event on Flickr
About this event
Flourishing in the New Paradigm points us toward questions of how to honestly and wholeheartedly address these complicated times of ours with grace, purpose, and joy. As a human species we stand at a crossroads and yet, there is so much propelling us into an unknown future. Let's take an evening to reflect, contemplate, and share incredible discoveries.

TEDxMalibu will take place at the Malibu Jewish Center & Synagogue and will feature TEDTalks videos, original speakers and music. In the spirit of ideas worth spreading, TEDx is a program of local, self-organized events that bring people together to share a TED-like experience, to foster and spread great ideas. At a TEDx event, TEDTalks video and live speakers combine to spark deep discussion and connection in a small group. These local, self-organized events are branded TEDx, where x=independently organized TED event. The TED Conference provides general guidance for the TEDx program, but individual TEDx events are self-organized.

Organizer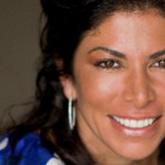 Lisa Kamen
Los Angeles, CA, United States
Team
Joody Marks

Program Curator

Jill Ettinger

Program Curator & Social Media
---