RheinMain
x
= independently organized TED event
Theme: "Subject2Change"
Offenbach am Main, Germany
February 2nd, 2012
Watch video from the event
Please install flash player to see this video.
View photos from the event on Flickr
About this event
"Subject to Change"

Panta Rhei: "All things move and nothing remains still" - that change is the only constant, greek Philospher Heraklit knew as early as the 5th Century BCE. And that is one thing that certainly hasn't changed.

Change is everywhere: not only for modern Greeks, who are facing crisis and major changes, but also for the whole world. Climate change, Obama's Change, the upheaval of the Arab Spring or, more closer to home, the German "Atomausstieg"... Everything is "Subject to Change".

And so is TEDxRheinMain 2012: we are looking for people who are the agents of change - Idea Givers, Thinkers, Doers, people who have an idea of what needs to change, know how to change it and want to share their idea in a talk about it at TEDxRheinMain 2012.

Because one thing is certain: TEDxRheinMain will take place on Feb. 2nd, 2012 in Offenbach.

Save the date and stay tuned - because everything else is "Subject to Change".
Organizer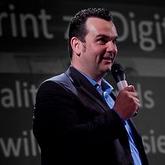 Darren Cooper
Frankfurt Am Main, Germany
Team
Günther Mulder

Texting & Speaker Management

Felix Schrader

Social Media & lots more

Eva Langhans

Social Media

Ossi Urchs

Moderation & Creative Input

Fabian Beiner

Website & Rapid Response Team

Lyra Turnbull

Speaker Coach

Nina Fischer

Management & Live experience event

Sylvia Pietzko

Public Relations

Colin Seebach

Project Assistant
---