Palermo
x
= independently organized TED event
Theme: The New Creative Economy
Palermo, Italy
April 30th, 2011
About this event
TEDxPalermo features a selection of producers, performers, artists, critics, actors, writers, publishers, sociologist and visionaries in general. A bunch of excellent Italians, and few fab guests just passing by Sicily. All showcasing the TED concept : Ideas Worth Spreading - under the theme - fil rouge The New Creative Economy, in order to explore the professionals in creativity blending the idea of innovation with tradition skills and unbeatable values. The TEDxTalks will be online after the Live Event on April 30th hosted in the Architecture so-called Nautoscopio*. Enjoy and be back soon.
*Nautoscopio means: instrument shaped as a boat to observe the landscape, and it's a venue in the Waterfront, set for leading personalities, of the local, national and International cultural fields, offering knowledge and entertainment. The urban architectural project designed by Giuseppe Amato, was installed in Palermo, with the Port Authority's Partnership.

TEDxPalermo presenta una selezione di produttori, performer, imprenditori, critici, artisti, attori, scrittori, sociologi e visionari in generale. Molte favolose eccellenze italiane, altri stranieri fantastici di passaggio in Sicilia ancora da confermare. Il concept di TED: Ideas Worth Spreading - Le Idee Meritano Divulgazione - è rivolto agli ospiti sotto il tema-fil rouge The New Creative Economy per offrire la possibilità di dare voce ai mestieri della creatività che producono business e fondono le idee dell'innovazione con l valori imbattibili della tradizione. Dopo pochi giorni dall'evento del 30 aprile 2011 i TEDxTalks registrati a Palermo nell'architettura Nautoscopio saranno online uno alla volta per il mondo intero. Enjoy and be back soon.
Confirmed Speakers
Andrea Genovese
Computer engineer specialized in digital marketing and web communication. He works for big and medium enterprises in order to improve online business communication as marketing and PR by means of social network, online community platforms and other new technologies typical of web world and telephone market. Andrea is also founder of "7thFLOOR", a magazine about business and the social impact of key technologies and the new trends in communication means. Andrea has founded a new media society, Map Cross Communication S.r.l.
Ugo Parodi Giusino
CEO and Founder of Mosaicoon Inc. one of the most innovative companies in online advertising in Italy. Born in Palermo, he was one of the first to grasp the potential of online video in Italy and in 2006 he founded the Belsito Media Ltd. developing a new particular model of online advertising through the use of viral videos. In 2009 he has been able to get the first venture capital investment in Sicily and turns the company into a joint stock company, which changed its name to Mosaicoon. Currently he directly follows some of the most important international brands developing online campaigns in Italy and abroad thanks to a network that now has more than 12 million users.
Francesca Martinez Tagliavia
Sociologist, born in Palermo in 1984. She studied in Rome, Finland and Paris, where she currently lives. Her research aims for understand how in Italy the images produce and transform bodies during a process that is interwoven to the hegemony of the television media and to the new forms of bodies labor's exploitation. She teaches Still Image Aesthetics and Communication at the University of Paris 3 Sorbonne - Nouvelle. She is a daily contributor for the blog hosted on the platform Culture Visuelle and she is a member of the Art Contemporain de Temps et l'Histoire between the EHESS et l'Ecole Nationale Supérieure des Beaux-Arts in Lyon. She works with the transnational collective Edu-Factory with whom she held the conference For a New Europe: University Struggles Against Austerity bringing together over 300 activists from all over the world.
Massimo Pitis
Graphic designer Massimo Pitis founded Vitamina in Milan with Aldo Buscalferri, a partnership that began in 1995 and continued until 2001. In 2007 pitis was born as design and consulting studio dedicated to editorial projects and brand identity specialized in design, architecture and cultural communication (CCA Montreal, Corraini, Skira, Five Continents, Esperia, Fabio Novembre, Comune di Milano / Museo del Novecento, Einaudi, Mondadori, Rizzoli, Gruppo Il Sole 24 Ore, Wired - Condé Nast). He teaches at the Faculty of Design IUAV San Marino, and has taught at the Istituto Europeo di Design at the Politecnico of Milan, at La Sapienza University in Rome. From 2005 to 2007 he was the president of BEDA (Bureau of European Design Association) as well as member of several award's international juries. His work has been published in numerous national and international magazines and has been displayed in prestigious museums and galleries.
Marco Ferrari
Designer from Salottobuono, born in 2005 as a collector of research experiences and design production. The studio investigates the urban space, codifying cognitive devices and triggering transformation strategies. Topics, challenges and programs are occasions for diagrammatic analyses and elaboration of paradoxical visions. Critical nodes, discontinuities and weak points are exasperated through the formulation of visionary objects and performative practicies based on non-authorial concepts and minimal rationality. Salottobuono is grounded in intellectual exchange and relational attitude built around a stable work group. Its experience develops through the participation in competitions, workshops, publications and specific assignments.
Beniamino Saibene
Founder of esterni, the organization behind the Milano Film Festival, together with Lorenzo Cappellini dn Carlo Gabardini. esterni is an association that has been active in Milan, and other cities in Italy and the world, since 1995; esterni develops cultural projects in several fields: films, design, art, and music. All the proposals of esterni are a response to the problems of contemporary life and are designed to improve relations between people, to create new spaces of sharing, socializing and cultural growth. Always all esterni's interventions have focused on public space and its increase in value: public space is the place for socializing, is a place for all, a place of integration, sharing and cultural exchange
Sandro Sangiorgi
Sommellier Sandro Sangiorgi, born in Fribourg (Switzerland), has been professionally involved in wine and food since 1978, while at the beginning he was in a family business managing a restaurant in Latina. In 1982 he became a Professional Sommelier, began to take part in various wine tasting races and events. In 1986 he founded with the cooperative I Tarocchi di Bra, the Association of food and wine consumers and lovers "Arcigola". In 1989 he was one of the founders of the "International Slow Food Movement". In 1991 he left the AIS and steadily worked with Slow Food. He became the main reference for the wine education and other food issues such as coffee, chocolate, beer, spirits. He contributed with several magazines such as Slow, SloWine, Gambero Rosso and Liberal. From the end of 1999 he became Editor for the magazine Porthos that dealt with culture of food&wine. Since 2001 he has been responsible for the educational project "Porthos tells" which promotes the culture of wine as history, myth, empiricism, land keeping. He curated with Séverine Obertelli the Italian edition of the book by Nicolas Joly "Wine from Sky to Earth: Growing & Appreciating Biodynamic Wine" published by Porthos.
Paolo W. Tamburella
Artist born in 1973 in Rome, working between Rome and New York. He explores the changing role of human rights in the world. In his imagination, Tamburella sees his work as a representation of a life lived, with daily routines and rituals marking out a lifetime of consumption production. The idea of repeated actions in daily, ordinary life and the memories associated with them, seem central to the artist's attempts to expose an aspect of deep humanity. He was invited for Singapore Biennale curated by F. Nanjo, J. Cruz and M. Ngui, Blk9 Singapore and he has been exhibited at Annina Nosei Gallery in New York, American Academy in Rome, International Biennial of Graphic Arts and Fondazione Sandretto Re Rebaudengo in the Group Show Inscriptions curated by Jimena Acosta. In 2009 he represented the Venice Biennial for the Comoros Island Pavillon. In 2011 he will curate the Bangladesh Pavillon. In Palermo he will make a site specific TEDxTalk to interact with the Bengali Community here in Sicily.
Tishani Doshi
The Indian writer Tishani was born and lives in Madras, India. Being the product of two cultures (Gujarati and Welsh), and the middle of three children. At 18 she left India for the US to study Business Administration at Queens College in Charlotte, North Carolina. During her undergraduate years she worked as a baby-sitter, house-cleaner, librarian and cashier in the student's snack bar. Shei moved to London in 1999 and landed her first and last fulltime job as the assistant to the advertising department at Harper's & Queen magazine. In 2001 Tishani moved back to India and at 26, she began a career as a dancer. For the next five years she performed with Chandralekha's troupe in India and abroad. She also worked as a freelance journalist, tinkered with poems and began working on a novel. In 2006, she won the All-India Poetry competition for her poem, "The Day We Went to the Sea." Tishani published her debut collection of poetry, Countries of the Body, to critical acclaim in 2006. The book won the prestigious Forward Prize for Best First Collection. Tishani's first novel, The Pleasure Seekers, is published by Bloomsbury in the UK and USA, and Penguin India. It is currently being translated into German, Spanish, Italian, French, Serbian, Croatian and Polish.
Erica Mou
Singer born 6 April 1990. She has been learning singing since she was 5 years old and guitar since she was 11. In 2007 he performed as a soloist and she presented her unpublished works. In 2010 she also performed abroad in U.S. and Albania. Her song "Oltre" was chosen by film director Roberta Torre as the soundtrack for the film "I baci mai dati" in competition at the 67th Venice Film Festival and the 27th Sundance Film Festival. Her cover of the song "Don't Stop (Thinking About Tomorrow)" by Fleetwood Mac was selected as the soundtrack to the new Eni Corporate advertising. Her debut album "Giungla" came out on 8 March 2011 for the record label Sugar by Caterina Caselli. In 2008 she won the Liri Festival, the competition of Italian Song Author of Garofano d'oro, Vitamins Controradio special award, the trophy Miti della Musica Volkswagen, Best Lyric Song at A. Daolio Award. In 2009 he won the Microfono Sisme for the best performance at the Audizioni Musicultura, the SIAE Award for Best Lyric Song at Mauro Carratta Award, the Discovery Indie Pop Award (MEI).
Giorgio Scianca
Architect based in Turin. Since 1994 he has been studying the architects around the whole world. He worked for the CNAPPC (Consiglio Nazionale degli Architetti) and for the UIA (Union Internationale des Architectes) for which he curated various publications, magazines, websites and promoted national and international conferences about architecture. He is one of the consultant of the Experimental Center of Cinematography (Centro Sperimentale di Cinematografia) for the development of the audiovisual industry in South Italy. In 2005 he founded the Archiworld Channel Ltd., a communications company with the mission to spread everywhere the topic of architecture in the heart of the social, political and cultural debate. The videomagazine archiworld.tv is an ondine magazine directed by Alessandra Comazzi.
Giovanna Velardi
Dancer of Sicily origin, is choreographer and artistic director of the company that bears her name. In 1997 she moved to France where she developed her work. In 2000 she created her own company in Marseille, supported by the Paca Region, the Conseil Général des Bouches du Rhone, City of Marseille, the National Ballet of Marseille, the Marseille Objectif Danse, Point Éphémère in Paris, Centre Chorégraphique National d'Orléans direct by Josef Nadj. In 2008 she came back to Italy, supported by Mibac.

Reda Berradi


Philosopher of Moroccan Origin, now 34 years old, arrived in Palermo with his parents 25 years ago when visas and residence permits didn't exist yet. After the Literature and Philosophy degree he began a career as a cultural mediator. Moreover he founded "La Casa delle Culture" in the historic district Danisinni as a shared place in which different cultures bursting in the city come together to share their cultural diversity. Reda represents "La Casa delle Culture" with the motto: "To know and learn Cultures you can travel around the world. I have decided to let the world pass by my house". He is currently the President of UMIP-Palermo.
Maria Sebregondi
VP Brand Equity and Communication at Moleskine she is also Vice President at Lettera27 Foundation and promoter of the Tower of Babel Project. Strategic communication and product concept consultant, she works with words in various areas: copywriting, publishing, literary translation, and magazines. She is the author of social and anthropological essays for Electa's industrial design series. She has taught in public and private universities (writing and communications courses, courses in the sociology of fashion and trends, education of creatives). Member of OPLEPO, Opificio di Letteratura Potenziale (Manufactory of Potential Literature).
Elena Casolari
is Executive director of ACRA, one of the most secular Italian NGO, currently active in 12 countries in Africa and Latin America where she has been working since 2005. She is the board of the foundation "Umano Progresso" and FEM International, a not for profit (nfp) entity focused on social business and market based solution for the Base of the Pyramid (BoP). Social enterprises aimed at solving the most urgent issues at a global level and their sustainable development is currently her personal challenge.
Francesco Librizzi
francesco librizzi is an architect and interior designer currently working in milan. In 2005 he founded his studio for design and architecture. As writer and editor, he collaborated from 2005 to 2007 with the magazine DOMUS. From 2003 to 2005 he collaborated as architect with Luceplan, for a new project in regards to a new corporate identity and as designer for the advanced research in new typologies of products. in march 2004 he graduated in architecture at the faculty of architecture within palermo University (magna cum laude). francesco was born on may 19th,1977 Among his recent projects: the interior layout of the new RCS headquarters, in collaboration with Boeri Studio (author of the building) and Mario Piazza (graphics); the new facade of the Allianz Teatro, Assago; a private nursery school selected for the London Festival of Architecture 2008; the exhibition architecture for the brand FMG and IRIS. In June 2008 the studio won an architectural compettion for the renovation fo the Corti di Baires in Milano and in September 2008 he was awarded of the Prix Hemile Hermes in Paris.

CAPOEIRA ZUMBì | Roda Capoeira


The Zumbì group was born in 1997 through Zoi Nascimento that founded in Palermo the first capoeira academy in Sicily, now an important national reality. Capoeira Zumbì hosted important stages of world-renowned masters and It had been involved in many events and various television appearances. Today the group of capoeristas, African dancers and drummers, has about 250 students.

Cristina Alga


Cristina Alga is the founders of CLAC with Filippo Pistoia. CLAC – The Team Centro Laboratorio Arti Contemporanee provides Design, Organization, Production and Promotion events and shared projects for culture and tourism aimed to develop local acting as ability to move at different levels and ondifferent areas, complexity planning, cross-disciplinary skills in the belief that sharing and creativity in the cultural field are the basis for the development of a territory.

Diana Verde Nieto


Diana is a Social Entrepreneur, Change-Maker and Author. She is the founder and former CEO Of Clownfish, a global sustainability communications. In 2010, Diana stepped down as Clownfish's CEO. In March 2011, The World Economic Forum nominated Diana as Young Global Leaders (YGLs). Amongst other things, Diana has been trained by Al Gore at the Alliance of Climate Protection, and serves as an advisor to many companies, governments and non-governmental organisations.
Daniela Cattaneo
At the age of twenty-seven she was partner of the most important Italian production house. In 1999 she worked at one of the most prestigious production companies worldwide, the Radical Media in London, where she learned the use of new media as a key element of the new communication strategies. In 2001 she founded Hfilms, a production company that combines traditional channels to new forms of communication using the integrated growth of new media. She immediatly got large awards. In 2003 she began to work with companies to produce institutional films, documentaries and presentations. She won the "David di Donatello" award in 2004 with her documentary "War". In 2006 she founded h +, a production company which deals with cultural strategy and gives origin to a dialogue between the business scene and the world of culture. Thus was born Enel Contemporanea, a public art project entirely produced by Enel and edited by h + in all its details. In 2009 she created a new division of h +, related to the world of web development and to the monitoring of social media in the world of network and its potential.
Lives and works between Milan, Rome and New York and has two daughters.
Silvia Paoli
is a fashion web journalist. She worked as a journalist for major fashion and women magazines. After 10 years of experience in this field, has chosen the path of a free-lance writer to develop new personal projects including a book titled Lost in Fashion and the creation of a web-tv dedicated to fashion, just called www.lostinfashion.it. In 2010 www.lostinfashion.it was the official web tv of Pitti Uomo fair and during its two years of life has created many original web formats about fashion and surroundings. Meanwhile Silvia Paoli holds a steady column on the weekly magazine Vanity Fair-Conde Nast and on the magazine Casamica-RCS. She attends as a speaker and trend expert in the trade press conference, she works as a guest blogger in multimedia projects and she is studying several cross media projects about fashion.
Francesco M. Cataluccio
is a writer. Since 1989 he has worked in publishing (Feltrinelli, Bruno Mondadori, Bollati Boringhieri). He currently deals in the cultural programs of Frigoriferi Milanesi. He is the author of many essays about culture and history of Poland and Central Europe and has been the editor of the works of Witold Gombrowicz (at Feltrinelli) and of the complete works of Bruno Schulz (at Einaudi). He wrote the French foreword for several works. Among his publications: La malattia del nostro tempo (Einaudi, Turin 2004, translated into Spanish and Polish), Vado a vedere se di là è meglio (Sellerio, Palermo 2010), Che fine hanno fatto i libri? (Nottetempo, Rome 2010), Chernobyl (Sellerio, Palermo 2011).
Organizer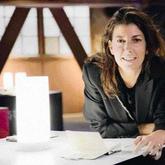 Raffaella Guidobono
Istanbul, Turkey
Team
Gabriella Currao

Graphic Designer, Photographer

Federica Curatolo

Assistant Curator

Margherita Bruno

Subtitle Editor

Sabrina Theumann Diaz

Business Design Consultant

Claudia Scuderi

Press and Communication Officer

Davide Vallone

Camera Operator + Editor

Bianca Montorselli

Architect

Valentina Greco

Speakers Coordinator

Giorgia Mauri

Assistant Speakers Coordinator
---