Gurgaon
x
= independently organized TED event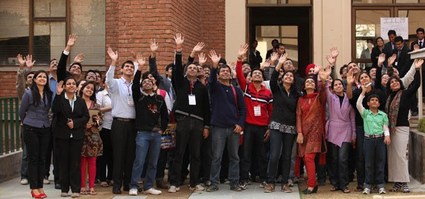 Theme: Non-confirmity
National Capital Region , India
December 10th, 2011
Watch video from the event
Please install flash player to see this video.
View photos from the event on Flickr
About this event
TEDx Gurgaon's 2nd edition happened on December 10, 2011. It attended by tech enthusiasts, executives from top companies, entrepreneurs, representatives from media and loved by all. Stay tuned for the next TEDx Gurgaon event in 2012.

Day Long Event
14 Speakers/ Performers
22 Crew Members/ Volunteers
22,000+ views on the website
Confirmed Speakers
Neeti Palta


Being amongst the only female stand ups in the Delhi circuit I have the unique advantage of presenting the female point of view on a variety of subjects – from our mothers to current affairs to gyms to whatever topic catches my fancy, while occasionally indulging in a spot of male bashing (Ok, a lot of that). I have been doing stand up for a little over a year now. I figured being an Indian woman, if I'm going to be beaten up it might as well be for a worthwhile cause. So here I am ex-advertising, ex-TV writer, ex shy person. I currently run my own outfit called Loony Goons, in which I organize shows that feature different comedians and me. Stuff that led to me becoming a comedian: Television: I have written for television for about five years. My experience includes heading a team of writers for Sesame Street's (USA) Indian venture called Galli Galli Sim Sim. Still airing on Pogo, Cartoon Network & DD. Have freelanced for a food channel. Also, wrote a video series for one of the largest NGO's in the world – EDC. Advertising: Last stint: Senior Creative Director, JWT, Delhi: I started my writing career in the world of advertising. A love affair that lasted for almost 11 years. Worked with agencies like Anthem-Radius (Pune), TBWA Anthem (Delhi) & JWT (Delhi). Honing my skills in selling people stuff they could well do without, I wrote anything from print ads to radio to TV commercials for a variety of clients.

Anupam Jain


Anupam is working with IBM Research, Delhi on the Spoken Web technology for the underprivileged since 2008. His research at IBM is primarily focussed on underpriveleged and developing regions of the world. A computer science graduate from University of Southern California, Los Angeles, he has worked in the Silicon Valley for a few years before moving back to India. He believes in inclusive growth and an imminent need to focus our energies and resources to the most-needy. His talk will be about the Spoken Web technology which aims to bridge the digital divide and bring the benefits of information revolution to the downtrodden. Spoken Web has a vision to remove computer and literacy as barriers between people and information.

Osama Manzar


Osama Manzar is a convert social entrepreneur spearheading the mission to overcome the information barrier between India's rural sector, and the so-called developed society, through Digital Empowerment Foundation (DEF) –– the not-for-profit organisation founded to accomplish the mission; In 2003 he launched India's first ever award for choosing the best e-content practices in India and South Asia. Osama is the Chairman of the Manthan Award South Asia for "Digital Inclusion for Development"; . Manthan Award has more than 1500 best e-content practices in its nomination bank. He has authored titles like: "e-Content: Voices from the Ground" ("Internet Economy of India"; "India's Best e-Contents", and "Development & Digital Inclusion". Manzar is e-Content Expert for India for World Summit Award (WSA), Grand Jury Member and member of Board of Directors; In addition, Manzar has been Jury Anchor for the Dataquest e-Gov Champion Award, India, and for Bahrain e-Content Award, Sri Lanka's e-Content Award He has been a part of the Professional Social Entrepreneurship Program by Social-Impact International. He has worked through Computerworld as assistant editor, head of Interactive Media Division of Hindustan Times and started a software company 4Cplus, for media publishers and quit the same to get into social entrepreneurship through DEF. He is a physics graduate and post graduate diploma in Journalism. He was awarded a joint Chevening/Young Indian IT Professional Programme 2002 Scholarship by the Foreign and Commonwealth Office to study Advanced IT Management Programme at Manchester Business School, University of Manchester during 2001-2002.

Abhinandan Chatterjee


Abhinandan Chatterjee is a Senior Consultant – Learning & Development with I Train Consultants. His forte lies in his ability to get people to learn through participation, thought and action! "Learning is not compulsory, neither is change, nor is survival", is his idea to enable learning for grown-ups. He has been assisting learners for over seven years and comes with an excellent understanding of participant behavior and adult learning best-practices. His background in business studies, psychology and psychometric testing helps him make people learn, grow and challenge what they have been doing for years. His interventions, workshops and keynotes are based around Leadership, Problem solving, Creativity, Negotiation, Coaching, Communication, Time, Stress and Customer management to name a few. Abhinandan's clientele is spread across industries with over 40 clients like Mc Kinsey & Company, US Embassy, Hindustan Times, etc. He is based out of Gurgaon, India where he lives with his wife, Prerna. He is a regular blogger @ www.abhinandanchatterjee.com, a poet, an adventure sports enthusiast and loves to eat, tweet and meet people.

Mike Rana


Mike Rana is the author of "The Citizen's Manifesto: A Ray of Hope". Currently, his attention is focussed on the social ills that plague our country, with the aim to bring in equality and freedom. He studied at IIT Mumbai (then Bombay); and then worked for Indian Air Force for more than quarter of a century following which he spent 10 years working for large international corporations as a senior executive. Mike Rana has received several awards of the highest level by the Government of India for his work on several projects relating to the large database systems, real-time Air Defence systems, including missile systems.
Venue and Details

IILM, Sec 53,
DLF Golf Course Road, Gurgaon
National Capital Region , 122001
India

December 10th, 2011
10:00am-4:00pm (GMT 5.5hrs)
This event occurred in the past.
See more TEDxGurgaon events »
Organizer
Mohit Pawar
New Delhi, India
Team
Rajat Gupta

Sponsorship

Aishwarya P

Content Support
---