Canberra
x
= independently organized TED event
Theme: Reflections. Happenings. Predictions.
Canberra, Australia
September 24th, 2011
View photos from the event on Flickr
About this event
In the Spring, the worlds of art, music, tech­nol­ogy, sci­ence and the human­i­ties, will come together at TEDx­Can­berra 2011. We've invited our pre­sen­ters to approach their ideas from one or more of our themes — Reflec­tions. Hap­pen­ings. Pre­dic­tions. — and they're going to deliver on that in remark­able ways to involve the audi­ence, invig­o­rate the senses, astound your mind and tell sto­ries in new and stim­u­lat­ing ways.
Organizer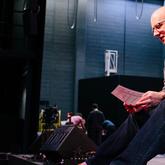 Stephen Collins
Canberra, Act, Australia
Team
Allison Denny-Collins

Project Manager

Clare Conroy

Executive Producer

Dale Rogers

Technical Lead

Gavin Tapp

Music and Pictures

Hannah Mattner

Project Assistant

Jason Conroy

Online Lead

Jo Allebone

Media Liaison

Jooann Tay

Comms Coordination

Lauren Cochrane

Design Director

Ruth Ellison

Volunteer Coordinator

Sharen Scott

Experience Design

Viv Mitchell

Partnerships Director
---