Kroměříž
x
= independently organized TED event
Theme: Here & Now
Kroměříž, Czech Republic
September 20th, 2014
Venue and Details
Kino Nadsklepí
​ Milíčovo náměstí 488/2
Kroměříž, 76701
Czech Republic
More about the venue »
Event Type (what is this?) Standard
This event is open to the public. Tickets are available.
Ticketing policies vary by event.
---
About this event
New TEDxKroměříž annual conference will be held on September 20, 2014 in the cinema Nadsklepí followed by afterparty. Across at least a dozen of interesting personalities from the arts, science, education, technology, design and more.
Organizer
Monika Stachoňová
Kromeriz, Czech Republic
Co-Organizer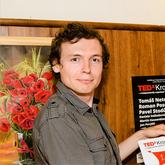 Petr Gremlica
Kromeriz, Czech Republic