GranVíaSalon
x
= independently organized TED event
Theme: ¿Nuevo? periodismo
Madrid, Spain
October 8th, 2013
Watch video from the event
Please install flash player to see this video.
View photos from the event on Flickr
About this event
Confirmed Speakers
Carlos Salas
Periodista y licenciado en Filosofía. Es bloguero y ha trabajado en medios digitales y en medios de papel mensuales, semanales y diarios. Ha escrito varios libros: el último "Trucos para escribir mejor" Es profesor de Periodismo en el Master de Periodismo de El Mundo y de la Universidad Europea de Madrid.
Organizer
Javier Villarrubia
Madrid, Spain
Organizer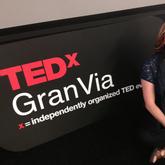 Carmen Martín Tejeda
Madrid, Spain
---