Universities are centers of knowledge and incubators for great ideas -- a perfect match for TEDx events. Events held at universities, organized by both students and administration, have shown the benefit of a captivated audience and groups of engaged volunteers poised to make meaningful change.
Over 1,104 universities have hosted TEDx events to date. Below, a sampling of successful past events:


TEDxUSC
The first TEDxUSC, held on March 23rd, 2009, was also the very first TEDx event.
As the pilot event of the TEDx program, TEDxUSC was a grand experiment -- bringing together great thinkers, visionaries and teachers to provoke conversation in the USC community. It made an inspiring precedent for the now 1,000+ TEDx events being organized around the world.
TEDxUSC -- which had over 1,000 attendees, 8 speakers and 4 musical performances (including a special appearance by Melissa Etheridge) was also the #1 trending topic on Twitter during the event.
Since 2009, TEDxUSC has become a regular event with many talks from it posted on TED.com, including ones from Jane Poynter on life in the Biosphere 2, Scott Fraser on what eyewitnesses get wrong and Adam Sadowsky on how to engineer a viral music video.
"I think we are all working to better understand what creates that 'pop' moment when something resonates deeply, and TEDxUSC has certainly pioneered that feeling in the area of intellectual stimulation." -- Attendee
TEDxDU
The first TEDxDU took place on May 13th, 2010, at Denver University in Colorado; the theme was "DU-ing Something," and the event was organized by the DU administration.
The event was large-scale: close to 900 people attended at the Newman Center for Performing Arts on the Denver University Campus. While a large percent of the audience were undergrad and graduate students, there were also non-student attendees of all ages.
Actress Hilary Blair emceed the event, and speakers included Lukas Biewald, Neil Foard, Ron Denham, Eva Hakansson and Aaron Huey, a photojournalist whose talk on an Indian Reservation in South Dakota aroused both sympathy and controversy.
The TEDxDU audience left enthusiastic.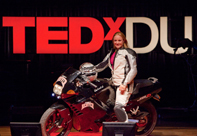 TEDxKinnaird
TEDxKinnaird was held at an all-girls college in Pakistan and focused on the theme "Believe In Tomorrow," addressing a variety of issues and feelings in regards to the future of Pakistan.
The event attracted a global audience -- people applied to attend from outside of Pakistan -- and introduced TED to many in the area.
Kinnaird is an all-girls college and does not ordinarily host co-ed events; organizer Areej Medhi, a student, had to convince the administration to allow a mix of female and male attendees.
The event's program was divided into two sessions. Speakers included students, teachers, political and social commentators and HR managers; the audience consisted of students and local professionals.
TEDxKinnaird has become an annual event.