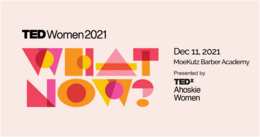 A good leader is essential for anything to grow and operate efficiently. When thinking about an effective community, we think that leadership is what really causes the community to run efficiently. But we want to challenge you with a new community model view. A view of a holistic community, that focuses on the leader within everyone collaborating together to build a more efficient community. A holistic community is described as an ecosystem where species within the community are interdependent relying on each other to maintain the balance and stability of the system. We will show you how you can find the leader within yourself to collaborate with others within the community and build community economic growth and community wellness. Ultimately, achieving a holistic community, one most find the leader within themselves and give that to their community by collaborating together, for a more functional and successful community as a whole.
Speakers
Speakers may not be confirmed. Check event website for more information.
Leadership Trainer
Dr. Lakeisha Yvette Walker resides in Bertie County. She earned a B.S. Degree in Accounting from ECSU a M.A. in Professional Counseling from Liberty University, and a Doctorate in Strategic Leadership with a concentration in Leadership Coaching from Regent University. Dr. Walker is passionate about people development and purpose fulfillment as being manifested via personal wellness, transformed behavior, and improved lifestyle choices. She volunteers for a wide range of civic and community opportunities while remaining committed to assisting individuals with achieving goals otherwise thought to be impossible. She is known for her legendary quotes, "Never Settle For Less Than What You Deserve Because When You Do You'll Get Less Than What You Settled For!" and "It's Never Too Late For A New Beginning!" which have both been instrumental in assisting individuals with cognitive restructuring and identifying the leader within while rebuilding from the inside out.
Lee Brooks
Education Leader
Lee "Moe " Brooks has been a licensed barber for over 20 years and a Barber Instructor for over 10 years. He graduated from Harris Barber College in Raleigh NC. Soon after he opened Moe Kutz Barber Shop. He is the owner of Moekutz Barber Academy in Ahoskie NC. He is married to Kristal Matthews Brooks of 20 years and they have 3 children.
Speaker & Author
Nikki Soulsby is a best-selling author, keynote speaker, and leader at a Fortune 50 company. She graduated with an Executive MBA from Duke and has been utilizing her network to uncover the secrets of getting ahead professionally. She lives with her husband, son, and four cats in Durham and spends all her free moments reading.
Mental Health Clinician
Richelle is a License Clinicial Social Worker. She is also a children's author who is passionate about helping others grow their self esteem. Richelle is the developer of the Lost and Found Self Esteem Program for young girls. Her work is built upon unpacking the things that weigh an individual down along their journey.
Shaquansia Gay
Attorney
Shaquansia Gay is from a very small town in North Carolina called Seaboard. She's a mother, a lawyer, author and most importantly a believer. As a self-proclaimed world-class optimist I don't believe that anything should get in the way of your happiness, not even single parenting. It's become my mission to empower single mothers to trust that they can be the powerful women they've dreamt themselves to be while being a loving and supportive mother.