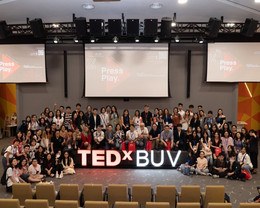 PAUSE: ON THE TURN
If "Press play" is the starting point of the journey, then "Pause" is the next step to take.
Daring to try, to experience and to confront something unfamiliar is definitely burdensome. Nevertheless, starting a new journey means accepting unexpected risks. There will be hardships, barriers and struggles in our way, hence, always keep a conscious mindset for any problems arising after "Press play".
Every straight path is followed by many turns and corners. So, when we are "On the turn", how about taking a short break, taking a pause! Pause does not mean giving up, it's just a precious moment to get a sight of the past, the present, and our next step. "Pause" is the invaluable moment when we allow ourselves to critically reflect on our journeys to clarify our utmost needs.The hidden value of external impacts such as the surroundings, mankind's culture, civilization, or internal factors and perceptions are too sophisticated to expose and understand.
This year, TEDxBUV 2021 presents to you the theme "PAUSE: On the turn" as the next journey of "Press play", where more ideas are brought back to discussion. Join us to discover and understand more about the hidden value of different aspects, hence, help each and everyone of us discover ourselves.
British University Vietnam
Theater Pod, British University Vietnam, Ecopark Township, Hung Yen Province, Vietnam
Third Floor
Ecopark, Hung Yen, 17000
Vietnam
Event type:

University (What is this?)
See more ­T­E­Dx­B­U­V events
Speakers
Speakers may not be confirmed. Check event website for more information.
Bang Phan Hai
Mr. Phan Hai Bang is an artist and lecturer at Hue University - University of Arts. He was the founder of Trucchi and Trucchi Vietnam Art Project. In 2001, he started Pursuing and researching paper crafts, in 2007 he participated in a research project on Asian handmade paper - a 7-month field trip in Thailand thanks to the Asian Scholarship Foundation (ASF). He proposed establishing a project to build the first paper mill at a Vietnamese university.
Duc Nguyen Van Minh
Mr. Duc Nguyen is the CEO & Co-founder of Hekate AI - a pioneering technology start-up, and Co-founder of chatbot Sumi - a Gen Z-friendly chatbot, that provides in-time listening and support via meaningful private chat). He is also one of the Vietnamese young leaders participating in the APEC CEO Summit 2017. He was the only Vietnamese representative in United Nation's Responsible Business Forum (RBF) 2018.
Ha Chu
Ms. Ha Chu is a Marketing Specialist, who has contributed to several famous restaurant chains in Hanoi, Vietnam such as Uu Dam, Tam Vi, The Kafe and Yu Tang. She is also the founder of https://www.cooked.vn/ - a business and marketing school, specializing in the F&B industry.
Huy Nguyen Ngoc
Dr. Nguyen Ngoc Huy is a specialist in climate change and disaster risk management, earned a Ph.D. in Environmental Science from Kyoto University with a focus on disaster risk management and climate change adaptation in 2010. In his years of working, he worked as a Technical specialist and international consultant at UNISDR, IFAD, UNESCO, ISET, and OXFAM.
Phuong Nguyen Vu Nam
Ms. Nam Phương was the Winner of scholarship at British University Vietnam. She also graduated from Institute of Integrative Nutrition (USA), becoming a Holistic Health Coach / Holistic Health Coach in Da Lat. Coaching is currently Nam Phuong's main business and community service. She was Co-founder of Tay Nguyen Youth Forum and Country Manager of a Korean Start-up specializing in Content Creation.
Trang Nguyen Minh
Ms. Nguyen Minh Trang is the host of Chăn Chuối show - Sexedu by Trang. The show includes Youtube Channel, a website, and Instagram.
Uy Le
Mr.Uy Le is the Co-founder, Creative Director, Team Lead Saigon Teu, who pioneers the stand-up comedy art form in Vietnam. He also won many major international awards in stand-up comedy (First, Second in stand-up comedy competitions). Besides, he was the former Assistant Marketing Manager @ AIA Vietnam, former Senior Creative Associate @ The Lab Saigon and former Junior Art Director @ Mullenlowe Mishra.