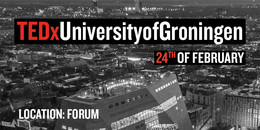 Elevation through collaboration
Have you always wanted to visit a TED-Talk? This is your chance! After five years of absence, the EBF is honoured to host the latest edition of TEDxUniversityofGroningen. On Thursday the 24th of February 2022, Groningen will spread ideas around the theme 'elevation through collaboration'. Coming together is the essential first step to solve the world's future problems such as climate change, the refugee crisis, and wealth inequality etc. Furthermore, cooperation is crucial to excel as a society to become more inclusive for everyone. Do you want know why collaboration often fail and how effective collaboration can be achieved? Do you want hear about a critical look on our current collaboration with artificial intelligence? More questions like these will be touched upon during the TEDxUniversityofGroningen.
The speakers have been announced! Elske Doets, Joey Jaq, Imre Végh, Linda Steg, Siri Beerends and Katharina Rettenbacher will be our speakers at the event.
Save the date, get inspired, and join the TEDx community because you don't want to miss this event!
Speakers
Speakers may not be confirmed. Check event website for more information.
Entrepreneur, owner Young Lady Business Academy
Elske Doets received the Business Woman Of The Year Award in 2017, which gave her the idea to start an academy (YLBA) that creates more gender equality. During the TED talk, Elske will talk about collaboration to elevate the voice of future generations. Elske Doets' analysis of the slowness with which Western business and society is shifting to new global ambitions, such as curbing climate change, is that younger voices, especially those of young women, are not taken seriously enough (think Greta Thunberg). And so these very young women, who have an open mind and heart for the needs of the world, should be trained to communicate their ideas much better, and organizations should be pushed to be more willing to inhale these ideas and act on them.
Teamwork coach, trainer and moderator
Imre Végh is a trainer, coach and moderator in the field of communication and personal development. He works with universities, companies and non-governmental organizations around the world. His goal is to create more understanding, clarity and compassion in teams. He is driven by his belief that compassionate collaboration is the absolute key to making the world a better place. Therefore, the theme of his talk will be how compassion makes teams stronger! In his talk, he will explain why typical teamwork techniques will get you nowhere without a mindset of compassion. By looking closely at ineffective behavior, we can see that it is often a tragic expression of unmet human needs. Creating connection, understanding and common humanity are essential ingredients for effective and enjoyable collaboration. By learning to look at things differently and consciously choosing our intentions, we can build compassionate teams that can meet today's challenges.
Influencer
Joey Jaq is an influencer on Instagram and YouTube based in Amsterdam. In addition, growing up in a family that did not accept his sexual orientation, he decided to move to New York to find himself and study marketing and music studies. After moving to New York he met his current partner, and later followed him to the Netherlands. His story of successful integration coincides with the start of his career as a YouTube personality. Because his own father experienced many difficulties integrating into the United States, Joey wanted to tackle this daunting undertaking in a different way. Recording his experiences and sharing them with the world helped his integration. Therefore, the theme of his talk will be about collaboration in the integration process! In his talk, he will argue that cooperation and mutual understanding are of the utmost importance in the integration process. He will discuss the details of his personal story and how he successfully integrated into another culture.
Katharina Rettenbacher
Student strategic innovation management
Katharina is the winner of the Student Pitch evening in which students of the University of Groningen could participate. She completely convinced the juries with her talk and we are very proud to add her to the speakers! In addition, she is currently studying strategic innovation management, a track of the master business administration. She plans to write her Msc thesis on collaboration in strategic alliances. The theme of her talk will be about collaboration, treated wrongly as one-size-fits-all approach. In her talk, she will argue that collaboration is wrongly treated as a one-size-fits-all approach. Many people think they know how to collaborate and therefore do the same thing over and over again. Yet all individuals and situations are different. Therefore, each collaboration should also be treated differently. Collaboration is an extremely powerful tool, but only if people learn from their experiences and actively change the way they work.
Professor of environmental psychology at the RUG
Linda Steg is a world-renowned professor of environmental psychology and also a professor of environmental psychology at the RUG. She studies what motivates people to act sustainably and to support environmental policies. She received a Royal Award (Knight of the Order of the Netherlands Lion) in 2019, and one of the most prestigious Dutch scientific awards, the Stevin Prize, in 2020. The theme of Linda Steg's talk will therefore be promoting wide-scale sustainable action. She will illustrate in her talk that people are generally intrinsically motivated to act sustainably because they care about nature and the environment. She will explain why promoting a sustainable society requires transdisciplinary collaboration, with active involvement of different scientific disciplines, practitioners and the general public.
Cultural sociologist
Siri Beerends is a cultural sociologist and researches the ethical implications of digital technologies at SETUP Media Lab. Her work offers critical insights on the increasing datafication of everyday life. In her PhD research at the University of Twente, she focuses on authenticity and how artificial intelligence reduces the distance between humans and machines. Therefore, the theme of her talk will be about the collaboration between humans and AI! In her talk, she discusses how we collaborate with AI and why we should do better. She believes that AI is overrated and that people should be more critical towards it. For Beerends, a key risk is not that AI will become more like humans, but exactly the other way around: that humans and societies will become more like machines. Collaboration should therefore focus on human interaction rather than AI.