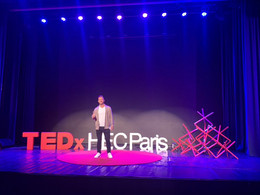 About the Community-
Our event represents the HEC Paris community, including current students and Alumni from undergraduate, master's, PhD, and executive education programs - approximately 50,000 people from over 100 countries. TEDx HEC Paris 2021 will allow them to engage with one another and absorb the innovative ideas and diverse perspectives that make the school a vibrant place to live, work, and learn.
Our Theme-
Our theme, "À point," is a French expression that can be interpreted in a variety of ways. In an abstract sense, the phrase can mean a level of balance or a moderate degree of intensity. When considered more literally, the theme can be interpreted as the main takeaway of an idea, situation, or experience. Finally, when approached as an expression of time, the phrase invokes the idea of a specific and/or crucial moment or decision in the past or present. As an easily understood cognate, "À Point" is an ideal representation of the intersection between HEC's proud French origins and its growing international base and recognition.
Follow the speakers' reveal on our Social Media channels:
https://www.instagram.com/tedxhecparis2021/
https://www.facebook.com/TEDxHECParis
Speakers
Speakers may not be confirmed. Check event website for more information.
Alexandra Palt
Chief Corporate Responsibility Officer, L'Oréal
A lawyer by training, Alexandra specialized in human rights in Austria. She began her career at a law firm and then worked for Amnesty International in Germany. For the next ten years, Alexandra worked at organizations specializing in CSR, diversity, change management and sustainability. In 2012, she joined L'Oréal as Chief Sustainability Officer, launching "Sharing Beauty With All", L'Oréal's sustainability program, which sets commitments for 2020 addressing the company's impact across its value chain. In 2017 Alexandra was appointed Chief Corporate Responsibility Officer, becoming the Executive Vice President of the L'Oréal Foundation in addition to her role as head of the CSR & Sustainability Department. Instrumental to the launch of the Women4Climate initiative since its early beginning, Alexandra has been a mentor of Paris 2017 and 2018 Women4Climate cohorts.
Alexandre Cadain
Lecturer & Entrepreneur
Alexandre Cadain is an HEC graduate and a serial entrepreneur who believes that our greatest global challenges bring the positive and urgent opportunity to reinvent our society radically. After working for Hyperloop Transportation Technologies in California, Alexandre founded the studio ANIMA to design impact projects and help governments and organizations such as the UN, the WEF, space agencies (CNES, ESA), and large corporations (Daimler-Mercedes, La Poste). The studio leverages intelligent technologies to produce radical projects with its partners. It is currently working on launching the AI Commons' knowledge hub to democratize access to AI resources (data, algorithms, computing power). Alexandre is also a member of the United Nations' initiative AI for Good and an ambassador for the XPRIZE Foundation in Europe (especially helping with the AI and the Avatar Prizes).
Francis Mallmann
Celebrity Argentinian Chef
Francis Mallmann is an Argentine celebrity chef, author, and restaurateur who specializes in Argentine cuisine especially in Patagonian cuisine. He has been featured on numerous international television programs, as well as on the Netflix original series Chef's Table. At the age of 19, he began managing a restaurant with a partner. He then traveled to Paris, where he spent over two years learning with Alain Chapel and other reputable chefs. After returning to Argentina, he spent several years driving the kitchen of a fashionable restaurant, before opening his own place in Palermo. Mallmann is today Argentina's most famous chef. Despite owning restaurants in Mendoza, Buenos Aires, Uruguay, Miami, Chile, and France, his cuisine is not defined by a restaurant but by his style: cooking in the middle of nature using open fires. Statedly, he cooks to "send a message of a way of living".
Gianluca Bacilliere
HEC MBA Student, LawyerHEC MBA Student, Lawyer
Gianluca Bacelliere is currently an MBA student at HEC Paris. A corporate lawyer by training, he started his career at magic circle firm Linklaters and most recently was a member of the legal team at a large sovereign wealth fund in the Middle East. Originally half Italian and half Spanish, he had the chance to call Switzerland, Spain, the UK, the US, and the UAE home before moving to Paris for his MBA. Today, Gianluca is a spokesperson and activist for Mental Health and LGBTQ+ within the HEC Community.
Jeremy Ghez
Director of Geopolitcs & Sustainability, HEC Paris
Jeremy Ghez is an associate professor at HEC Paris and the author of "Architects of Change: Designing Strategies for a Turbulent Business Environment". He is the scientific director of the school's MSc Sustainability and Social Innovation, as well as the HEC Paris Center for Geopolitics. He also coordinates the Sustainable and Disruptive Innovation Track in the HEC Paris MBA program. Jeremy received an award for his case study on "The Economics of Amazon" in 2016 and was named one of the world's 40 best under-40 MBA professors by Poets and Quants in 2019. His current research and teaching focuses on populism, the global business environment, strategic foresight, tech giants, as well as on US and European politics.
Mahmoud Mohieldin
Executive Director, International Monetary Fund.
Mahmoud is the current executive director of the International Monetary Fund. Previously, he served as the World Bank Group's Senior Vice President for the 2030 Development Agenda, UN Relations, and Partnerships, as Minister of Investment of Egypt from 2004 until 2010, and many other relevant positions. His professional experience extends into the academic arena as a Professor of Economics at Cairo University and as a Visiting Professor at renowned Universities. Mahmoud is one of the most influential figures in international finance today and is leading sustainable investing practices worldwide.
Marion Vaquero
Founder, Pepite Sexiste
Marion Vaquero is a BBA (Management) graduate from Pace University and an MBA (Marketing) graduate from ISC Paris. She is the founder and president of Pépite Sexiste, an association that creates awareness about sexist and stereotyped marketing. Pépite Sexiste speaks to a community of 350k followers on social media, and after starting in France in 2018, launched 17 branches around the world. In 2020, the campaign #PépiteChallenge aiming to deconstruct gender stereotypes was recognized by UN Women. Alongside being a social entrepreneur, Marion is one of the co-authors of the "Charte pour plus de mixité dans les jouets" (Charter for More Mixity in Toys), an initiative launched by the French Ministry of Economy and Finance to decrease gender stereotyping for children
Nourdine Bihmane
CEO of Emerging Markets, Head of Decarbonization, Atos
Nourdine joined Atos in 2002 and started working in sales. In 2009, he became Head of Managed Services in Iberia, then moved to New York to lead the delivery transformation of the largest account of Atos in the United States. In 2015, he was appointed as the Head of Operations for North America and led the integration of Xerox ITO. In 2017, he moved back to Europe to drive the strategic & lean initiatives on all Atos' operations. He was named as the Head of Business & Platform Solutions, Public and Regional Business, and member of the Atos Group Management and Atos Group Customer Committee in 2017. In 2020, he was appointed as the CEO of the Growing Markets Regional Business Unit and Head of Decarbonization. Since 2021, he has been working as the Chief Marketing Officer of the Atos Group. Nourdine graduated engineer from CNAM in France and holds executive degrees from Princeton University and INSEAD. He is also an active member of the International Red Cross and Red Crescent Movement
Terri Duhon
Board Director, Morgan Stanley