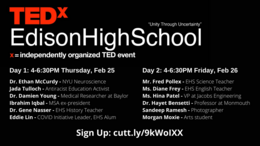 Join us Thursday and Friday, February 25-26 from 4 to 6:30PM
We have 12 amazing speakers talking about Antiracist Education and Fear and Islamophobia and Science and SO SO MUCH MORE!!!!
As if that wasn't awesome enough… we'll be raffling a $50 Visa gift card!! (If it's free, it's for me... and it's for you too!)
Speakers
Speakers may not be confirmed. Check event website for more information.
Damian Young
Medical Researcher at Baylor College of Medicine
(Coming Soon)
Diane Frey
English Teacher at Edison High School
A 20-year veteran of Edison High School, Mrs. Diane Frey teaches ninth grade English and AP Language and Composition and co-advises the school newspaper, The Eagle's Eye. In the classroom, she appreciates an unlikely but interesting food metaphor and never shies away from wearing her beloved cheetah onesie during close readings. A green tea enthusiast and dark chocolate snob, Mrs. Frey enjoys listening to audiobooks on her commute to work, reading the New York Times on Saturday mornings, and spending time hiking and biking with her family.
Eddie Lin
Balloon Artist
Eddie Lin is a 22 year old balloon artist that also goes by the name "Ausome Balloon Creator." You heard that right. Ausome. The spelling of the word "Ausome" is a play on words for Eddie's autism. With a pure heart, contagious smile, and active imagination, Eddie uses his balloon art to connect with his peers and community in a way his family could have never imagined.
Ethan McCurdy
Science Communicator at NYU Langone Health
Having earned his Ph.D. in Neuroscience from Columbia University, Ethan McCurdy is interested in STEM, biotechnology, and promoting scientific literacy. He works at NYU Langone Health as a Science Communicator to create educational initiatives that bring the exciting principles of neuroscience from the bench to the public. He has partnered with organizations throughout New York City, including BioBus, BraiNY, the Dana Foundation, the Neuroscience Outreach Group at NYU, and the Columbia University Neuroscience Organization, to make science accessible for everyone.
Fred Pollex
Science Teacher at Edison High School
Fred Pollex is a high school science teacher who spends his professional life walking a tightrope, trying to balance being the approachable, "chill teacher" (not his words) while finding ways to challenge and inspire students to find their passion through education.
Gene Nasser
History Teacher at Edison High School
Eugene Nasser has been a history teacher at Edison High School for fifteen years and also teaches philosophy at Middlesex County College. He spends his free time reading, writing, and playing disc golf.
Hayet Bensetti
Educator and Researcher at Edison High School, Monmouth University, Rutgers University, and NJCU
Adjunct professor at Monmouth University, PT Lecturer at Rutgers University, course developer at NJCU, and French teacher at Edison high school. Hayet was born in 1970 in Algeria, she graduated from the Ecole Nationale d'Administration with honors in 1995. She worked for the Algerian Finance Ministry, then moved to Tunisia to continue her education in Finance, and got her Masters degree from IFID in 1998. Hayet took several senior positions in the financial business, offshore companies, and Wall Street. Her interest in technology started with her first American degree in computer programming and database management (2002). Years later, she completed her doctoral degree in Educational Tech Leadership at NJCU. She stands out as an accomplished Algerian woman who is passionate about technology and invested in helping others.
Hina Patel
Division Vice President of Jacobs Engineering
Hina Patel is the Division Vice President of New Jersey Operations at Jacobs Engineering. She has worked on projects including highway design, bridge replacements, intersection improvements, utilities, environmental analysis, and public outreach. What sets her apart is her passion to serve, to bring out the best in her team and be a role model for change and diversity, She is a diversity champion at Jacobs promoting gender equality, inclusion, and equity in opportunity.
Ibrahim Iqbal
Politics Student and MSA and NHBS Ex-President
Ibrahim Iqbal is an alumni of Edison High School, where he was the president of the Muslim Students Association. He is currently attending Rutgers University, majoring in Political Science and Economics and minoring in Critical Intelligence. He hopes to use his broad experiences to fuel a career in national politics.
Jada Tulloch
Anti-Racist Education Activist
Jada Tulloch is a first-year student at Columbia University planning to study Sustainable Development and Public Health. Over the past several months, she has engaged in community-based anti-bias and anti-racist initiatives in her hometown of Middletown, New Jersey. She is a strong advocate for social justice in the classroom and has worked to reform her former school district's curriculums to prioritize inclusivity, diversity, and educational equity with fellow students.
Morgan Moxie
Music Research And Development Student
Morgan Moxie is a 2020 college graduated and Edison High School Alum. Morgan graduated from Monmouth University with a Bachelors degree in Music with a concentration in Music Industry and a minor in Creative Writing. Morgan is currently pursuing a job in the music industry.
Sandeep Ramesh
Photographer
Not every college student can boast that their work has been seen on national television. An avid photographer and athlete, Sandeep Ramesh '19 can boast away. Now a junior double majoring in mathematics and computer science at the Maryland Honors College, this former Eagle (go EHS!) has also run a photography side-business since his sophomore year of high school. Since then, he has tackled the issue of balancing STEM and humanities interests simultaneously.