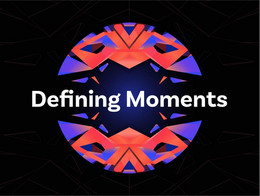 Our theme for 2022 is "Defining Moments". A defining moment is an event that you experience that fundamentally changes you or the trajectory of the future. It is a point in your life – or in history – when you were urged to make a pivotal decision, or a pivotal occurrence takes place. These moments define us and have a transformative effect on our perceptions, behaviors, and in some cases the trajectory of life as we know it. These are experiences that rise above the everyday norm and occur in the most unlikely of places.
Speakers
Speakers may not be confirmed. Check event website for more information.
Bryan Smith
Filmmaker
One of the leading filmmakers today for documenting extreme adventure, Bryan Smith founded and runs Reel Water Productions—a film production company based in Squamish, British Columbia, whose mantra is "Imagine. Create. Overdeliver." Specializing in documentary, expedition, and commercial content, Bryan leads a team of like-minded creatives in the pursuit of authentic storytelling. Their award-winning films have graced festival circuits, television networks, and garnered a healthy amount of business for their clients, including Red Bull, BBC, Netflix, National Geographic, and Discovery Networks.
Chaunte Lowe
4-Time Olympian
If there's an art to facing obstacles and coming out on top, Chaunte Lowe takes the Gold. The world-renowned high jumper is a 4-time Olympian and world record holder. Many are surprised to learn that she achieved most of these accomplishments while also holding the title of "mother of three." Her performances on the field have earned her inductions in three separate halls of fame and her advocacy has attracted worldwide media.
Cristie Besu
Entrepreneur / Athlete
I stand strongest when the voices of the marginalized are suppressed by societal inequalities. The passion to help others stems from my personal journey and family history, which has always been about struggle yet perseverance, even in the face of insurmountable obstacles. Since a young age, I was taught to express myself, and because of that I knew I HAD to write my own story, regardless of how difficult it might be. As a human focused on the betterment of society, health and nutrition – that same passion that drove me as an ER Nurse remains the same, if not higher, as I now apply it to a broader universe of people that deserve to not be limited with their personal freedoms. The challenges include equality for women entrepreneurs and female sexuality – which in turn fuels the freedom for human expression. The implications of this are monumental, and once again, I'm just getting started.
James Altucher
Entrepreneur / Author
James Altucher is an entrepreneur, writer of 25 books (including the best selling "Choose Yourself" which USA Today listed as one of the "ten best business books of all time"). He's the host of the "James Altucher Show" podcast which has had over 70,000,000 downloads and has featured guests such as Richard Branson, Mark Cuban, Sara Blakely, Kareem Abdul-Jabbar, Gary Kasparov and more. He is also a nationally ranked chess master.
Jane Epstein
Homemaker
Jane Epstein is a Sibling Sexual Abuse (SSA) survivor. Now an advocate, she provides guidance and tools for prevention and victim recovery. Jane spent 40 years in a continual state of dissociation. She was in and out of therapy and, despite marrying and being blessed with two children, became depressed and suicidal. Sobriety and self-reflection led her to write her story. As she began writing, Jane discovered that hardly anyone on the entire Internet was speaking about sibling sexual abuse, thus her advocacy was born. Jane is a founding board member of Incest Aware, moderator of a survivor Facebook group, and has a memoir in progress. She shares her story publicly to give other survivors the courage to speak up, share their stories, and know they are not alone. Jane hopes to contribute her experiences and insights to bring awareness to sibling sexual abuse. She seeks to educate and empower parents on preventing SSA, and, in the process, help remove the fear of the unknown.
Jayson Waller
Solar Entrepreneur
Raised in a trailer park with no clear path to success, kicked out of high school multiple times, and faced with becoming a father in his teens, Jayson Waller is the definition of a "true underdog." He harnessed those underdog instincts to build three companies (two from scratch) into multimillion-dollar enterprises with his most recent venture, POWERHOME SOLAR, skyrocketing toward becoming a billion-dollar business. Today, POWERHOME Solar has 2,200 employees, and Waller is a prominent leader in the solar industry, even participating in a 2020 roundtable discussion on solar energy at the White House. In the last decade, the solar industry has experienced an average annual growth rate of 42%, and Waller's work has helped drive the growth. By 2024, there will be on average, 1 solar installation per minute, according to the Solar Energy Industries Association (SEIA).
Kenny Broad
Environmental Anthropologist
Environmental anthropologist and Professor at the University of Miami, Dr. Kenny Broad, has participated in extreme scientific and filmmaking expeditions on every continent to gather information and samples that shed light on little known environmental and cultural subjects. Broad and the late Wes Skiles received the National Geographic Explorer of the Year award in 2011. He regularly collaborates with ecologists, climatologists, hydrologists, psychologists and a range of other strange 'ologists' and has published dozens of scientific articles on topics ranging from risk perception to cocaine distribution to venomous snakes to natural resource management. Kenny is a licensed US Coast Guard Captain, a commercial helicopter pilot, and holds multiple diving ratings. Kenny currently directs UM's Abess Center for Ecosystem Science and Policy. He is also Co-Director of the Center for Research on Environmental Decisions at Columbia University.
Leslie Dewan
Nuclear Engineer
Dr. Leslie Dewan is the CEO of RadiantNano, a nuclear startup developing next-generation radiation detectors with applications in national security, clean energy production, and medical diagnostics. Previously, she was the CEO of Transatomic Power, a company that designed safer nuclear reactors that leave behind less waste than conventional designs. Leslie received her Ph.D. in nuclear engineering from MIT, and she also holds S.B. degrees from MIT in mechanical engineering and nuclear engineering. Leslie has been awarded an MIT Presidential Fellowship, has served on MIT's Board of Trustees, and is currently serving on the National Academy of Engineering's study, "Laying the Foundation for New and Advanced Nuclear Reactors in the United States." Leslie has been named a TIME Magazine "30 People Under 30 Changing the World," an MIT Technology Review "Innovator Under 35," a National Geographic Explorer, and a World Economic Forum Young Global Leader.
Lia Garvin
Operations Leader
Lia is an operations leader in tech with 8+ years of experience at some of the world's most influential companies in tech including Microsoft, Apple, and Google, on a mission to humanize the workplace, one conversation at a time. Through her writing, leadership coaching and savvy program management skills, she brings an authentic and irreverent sense of humor to teams to help them examine the challenges holding them back and focus on what matters. She has built robust diversity & inclusion programs, launched the world's first holographic computer, driven programs and initiatives around team inclusion and organizational effectiveness, and coaches people on how to drive impactful work and thrive working in tech. She was recognized by the National Diversity Council as a 2021 DEI Champion.
Mireya Mayor
Anthropologist / TV Host
The former NFL cheerleader, daughter of Cuban immigrants, and mother of six, is not your typical scientist. Mireya Mayor is a world-renowned primatologist and explorer, award-winning TV host, bestselling author and the Director of Exploration and Science Communications at Florida International University, in Miami. Known for exploring the most remote regions of the earth in search of elusive and little-known animals, her explorations have led to several scientific discoveries, most notably her co-discovery in Madagascar of the world's smallest primate, a tiny mouse lemur, described as a new species. As the first female and first Hispanic wildlife correspondent for National Geographic, Mireya has hosted dozens of documentaries, including Ultimate Explorer (MSNBC), Wild Nights with Mireya Mayor (Nat Geo Wild), Mark Burnett's Expedition Africa (History Channel) and Expedition Bigfoot (Travel Channel).
Paula do Vale Pereira
PhD Candidate – MIT
Paula do Vale Pereira is a Ph.D. Candidate in the Space Telecommunications, Astronomy, and Radiation Laboratory at MIT, where she works on developing new capabilities for space-based exploration systems. Her Ph.D. work focuses on the thermomechanical development of probes for the exploration of Ocean Worlds, such as Europa (moon of Jupiter) and Enceladus (moon of Saturn). Paula has worked on the design, manufacturing, assembly, integration, testing, and in-orbit operations of an imaging satellite currently in space, called DeMi. She is also currently leading the assembly, integration, and testing of an Earth observation CubeSat, called BeaverCube. Paula is a hands-on engineer passionate about machine shops and bringing ideas into life. An active voice in advocating for diversity, inclusion, and high-quality research advising, Paula has been involved with numerous student groups, institute-level committees, and NGOs across and outside of MIT.
Rachel Lindbergh
Space Policy Analyst
Rachel Lindbergh is a space policy analyst for the IDA Science and Technology Policy Institute (STPI), a federally funded research and development center created by Congress to support the White House Office of Science and Technology Policy. Rachel graduated from the University of Chicago in 2019 with a degree in Public Policy and Russian & Eastern European Studies. As a high school student, Rachel started her journey in space by sending an experiment to the International Space Station (ISS). Through the Student Spaceflight Experiments Program (SSEP), Rachel and her team investigated tin whiskers in lead-free solder, learning about the ups and downs of research in space first hand when her first two attempts at transporting her payloads to the ISS were destroyed with the explosions of the Cygnus Orb-3 and SpaceX's CRS-7 rockets in 2014 and 2015 respectively.
Vanessa Simpson
Musician
Since the young age of nine years old Vanessa Simpson could not put down the microphone. She was excited and influenced by her older sister Christina Simpson to start singing. She would tag along to her older sister's vocal lessons and listen in on them. Once she started singing, she did not stop and had to take her talents to the next level. At the young age of 10 she joined a singing group that performed locally in South Florida. Performing quickly became her passion. Once she realized she could fearlessly perform she decided to enter local singing competitions. She won runner up in South Florida Fair as well as runner up in Rotary Future Stars in which she sang on the famous Mizner Amphitheater stage. She has also performed in front of the legend known as Connie Francis in which she sang the songs Connie made famous to Connie herself.