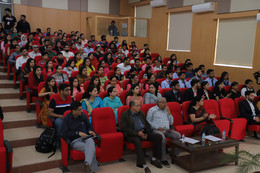 "A man may die, nation may rise & fall, but an idea lives on"
Idea was born since the beginning of humankind. One idea has changed lives of many. From Stone Age to digital age, from discovery of America to liberation of India, from Newton's apple to Steve Job's Apple, from pigeon post to emailing, everything changed just with the spark of an idea. Have we ever imagined how our lives would have been if we are to communicate without a phone, to travel without a car, to get entertained without a television or capture memories without a camera. Thanks to "Idea" for making life easier. And today, the only word that brings two distinct souls, that is, TEDx & Model Institute of Engineering and Technology together with TEDxMIETJammu is:
• I-nterest
• D-etermination
• E-xploration
• A-ssessment
Model Institute of Engineering and Technology shares the same passion as TED does, that is, to become an evangelist of Ideas that can drive our future. TEDxMIETJammu , an independently organized TED Event brings people together to share a TED-like experience. The main aim of organizing such an event is to get students to believe in their dreams and go beyond their status quo by not limiting their ideas to themselves but also contribute to life of people. This year TEDxMIETJammu , is presents a revolutionary theme "UNRAVEL THE UNCONVENTIONAL " which talks about reaching newer heights in life and turning dreams to reality. It is about believing in the power of dreams, working tirelessly in the right direction to gain success. The event will witness some powerful performances and speeches by some of the best and brightest personalities of the country.
Speakers
Speakers may not be confirmed. Check event website for more information.
Ajay Chaturvedi
Author,Entrepreneur,Social Activist
•Honoured by the World Economic Forum as a Young Global Leader, Ajay is a former Citi banker. An Engineer from BITS Pilani and a Graduate in Management of Technology from the School of Engineering and The Wharton School of the University of Pennsylvania. • Ajay was awarded CNN IBN Youth Icon / Young Indian Leader of the year 2011. Ajay's venture, HarVa XPO entered the Limca Book of Records for being the first all women rural BPO in the world in 2011 • Ajay was nominated as one of the Amazing Global Indian by Times Now News 2012-13 and Yahoo unsung Heroes 2012-13. He has also been honoured as an Iconic Youth 2014 by Rotary International, picked as 50 most creative leaders across the world to attend THNK • Ajay has also authored the bestselling book, 'Lost Wisdom of The Swastika' published by Times Group Books of Bennett Coleman & Co. Owing to his work, Ajay was bestowed with 'Making the World Happening Award 2017' by Allevents.
Karan Mahajan
Partner,DurgaSeeds, Agricultarist
Karan is Managing Partner in Durga Seeds, Chandigarh, where his portfolio includes production, management and marketing of his brand. He has succeeded in taking his brand global and currently Durga Seeds is exporting to more than 20 countries worldwide. He has attended various national and international conferences. Karan is also a Founder Partner in his startup Seed Delivery LLP which he started in 2017.In this the main focus is to sell heirloom varieties of seeds collected from all over the world to home gardeners through the online portal allthatgrows.in In this they sell seeds for vegetables,fruits,herbs and have introduced India to the seeds for microgreens. Karan and his wife Rohini initiated a new start up in 2018 by the name Leaf and Life. This is an agricultural enterprise that supplies fresh Microgreens to households and restaurants. Researchers have found Microgreens to be upto 40 times more Nutrient rich than fully grown vegetables.
Ms Krupali Patel
Ace International Gymnast- Youngest Arjuna Awardee
Recipient of ARJUNA AWARD -1989 (Highest Sports Award of Country), Recipient of SARDAR PATEL AWARD -1992, Haryana's GOVERNOR AWARD,TOYI AWARD (Ten Outstanding Young Indians) Named in the LIMCA BOOK OF INDIAN RECORDS and have won 103 Medals in the various National Games / Championships. Achievements 1. Recipient of ARJUNA AWARD -1989 (Highest Sports Award of Country). 2. Recipient of SARDAR PATEL AWARD -1992. 3. Haryana's GOVERNOR AWARD. 4. TOYI AWARD (Ten Outstanding Young Indians). 5. Named in the LIMCA BOOK OF INDIAN RECORDS. 6. Have won 103 Medals in the various National Games / Championships.
Ms Nidhi Yadav
Founder &CEO Aks Brand
Nidhi Yadav, born and brought up in Indore, is the founder of AKS Clothings. She was a computer graduate who worked in Deloitte for one and a half years before realizing what she really wanted to do. While watching Meryl Streep's 2006 blockbuster film "The Devil Wears Prada", Nidhi decided to work in fashion. After this incident, Nidhi enrolled for a one-year course in Fashion Buying and Merchandising at the Polimoda Fashion School in Florence, Italy. Although she got a job in an Italian fashion brand Emilio Pucci, she returned back to India. Nidhi started the venture Aks with small seed fund of INR 3.5 lac in 2014. Happily Served 35 lac customers so far. Revenue till Q3 FY18-19 is INR 100 Cr and all set for 135 Cr for FY19. Aks Clothings is flagship brand of Yuvdhi Apparels Private Limited along with two Other sub Brands, Aum and Aks Couture. Aks is Myntra's Emerging brand Of the year 2017 winner
Ms. Sana Dua
Femina Miss India First Runner Up 2017
Sana Dua is an Indian lawyer, model, beauty pageant titleholder and has been declared the Face of Election Commission Jammu & Kashmir for Lok Sabha Election 2019 by ECI. She was crowned 1st runner up at Femina Miss India 2017 and became the First Miss India from J&K.[She represented India at Miss United Continents 2017 contest in Guayaquil, Ecuador in September 2017 and made it to the top 10. Sana Dua won Femina Style Miss Diva North, 2016 award. She has worked extensively on the Save Water Campaign in Jammu.
Vikas Shah
COO, WaterHealth International
Vikas is currently the Chief Operating Officer of WaterHealth International (WHI). WHI addresses the need of providing potable drinking water to the underserved communities globally while ensuring financial, institutional, environmental, technical and social sustainability. During his term at WHI of over ten (10) years, Vikas grew the operations of the Company from 150 to over 650 Community Water Systems (in major municipalities of the country) including Water Vending Machines in all the key train stations of India. Vikas was also instrumental in launching the brand 'dr. water' in 2010 which today is the only 'branded' community water play in the world. He incubated operations in West Africa i.e. Nigeria and Ghana and plans to now expand the Company's presence to the East Africa over the next few years. Today (for Vikas) WHI is more of a crusade than a business and he is driven by the goal of reaching out to significant number of underserved communities of the world.