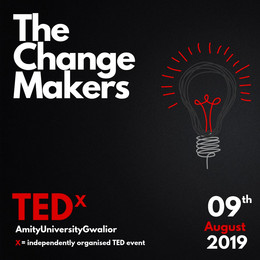 Keeping in mind the saying "Be the change, you want to see in the world" by Mahatma Gandhi, we at Amity University Madhya Pradesh are ready to be the change with our TEDx theme – THE CHANGEMAKERS.
A changemaker is someone who is taking creative action to solve a social problem. Changemaking involves empathy, thoughtfulness, creativity, taking action and collaborative leadership.
The goal of this event is to bring together extraordinarily unconventional, crucial and out-of-the-box ideas by optimistic minds of our local community. We assure to bring together idea-focused talks that cover a large array of subjects, to foster learning, inspiration and wonder among the members of the live audience. The proposed theme would showcase speakers who have actually worked hard in bringing change against all the odds.
The first TEDxAmityUniversityGwalior event will create conversations that matter and spread ideas worth spreading.
Are you ready to be the change? We at TEDxAmityUniversityGwalior, are!
In the spirit of ideas worth spreading, TEDx is a program of local, self-organized events that bring people together to share a TED-like experience. At a TEDx event, TEDTalks video and live speakers combine to spark deep discussion and connection in a small group. These local, self-organized events are branded TEDx, where x = independently organized TED event. The TED Conference provides general guidance for the TEDx program, but individual TEDx events are self-organized.
Organizing team
Abhay Pratap

Curation

Ajeesha S. Nair

Marketing/Communications

Ashmita Gupta

Curation

Deepansh Tripathi

Curation

gulshan kumar

Marketing/Communications

Katyayni Singh

Marketing/Communications

Nimish Anand

Operations

Sahil Singh

Marketing/Communications

Vijay Shekhar

Operations

Vishnu Upadhyay

Curation