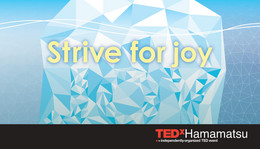 "Strive for joy"
Everyone of us has our own way to enjoy life. There are millions of ways.
When I launched TEDxHamamatsu, I was passionate to realize the philosophy of "Ideas worth spreading," and have worked toward the joy and happiness that lies ahead.
The process was a series of "Moments of joy from gaining new values and awareness."
Through working toward joy and happiness not just by myself but with a lot of people, it's gone beyond my imagination and led to the joy and happiness of many people around as well.
The size of the target mountain may be different for each of you.
The reasons to aim for the summit differ as well.
The journey may not always be fun.
However, on the way, you may encounter spectacular scenery that you have never seen or come across before, or discover valuable animals or plants.
I hope you aim for your own summit while gathering the moments of joy from gaining such new encounters and awareness.
The theme for 2018 is "Strive For Joy." Through TEDxHamamatsu 2018, I hope you find the way to gather your moments of joy from gaining new values and awareness.
Go ahead and "Strive for joy!"
TEDx Hamamatsu Organizer Tetsuya Kawaguchi
Speakers
Speakers may not be confirmed. Check event website for more information.