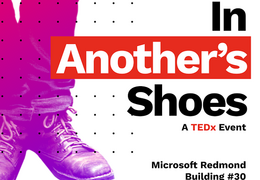 In the spirit of ideas worth spreading, TEDx is a program of local, self-organized events that bring people together to share a TED-like experience. At a TEDx event, TEDTalks video and live speakers combine to spark deep discussion and connection in a small group. These local, self-organized events are branded TEDx, where x = independently organized TED event. The TED Conference provides general guidance for the TEDx program, but individual TEDx events are self-organized (subject to certain rules and regulations).
Speakers
Speakers may not be confirmed. Check event website for more information.
Ana Chen
Body Image and Appearances
Ana Chen, a sophomore at Interlake High School, has studied creative writing and ballet since childhood. During the Claremont Review's annual writing competition, her poetry was awarded Top 12 out of thousands of submissions from sixteen countries. As the founder and president of Interlake High School's creative writing club, Ana was named a 2017 Global Literacy Champion for starting a library in Malawi. In addition, she has studied creative writing and screenwriting at Stanford University's Pre-Collegiate Summer Institutes and journalism with the New York Times. Ana has also danced at multiple prestigious programs around the world, including the Bolshoi Ballet Academy in Moscow, the American Ballet Theatre, the Pacific Northwest Ballet, and the Joffrey Ballet. When she is not writing, dancing, or struggling through seas of schoolwork, Ana enjoys reading, baking dubious vegan cakes, and tutoring at her local library.
Erez Benari
Information Security Engineer
Erez Benari is an Information Security Engineer, specializing in customer service as part of his work in the technology industry. Having worked for Microsoft for over 17 years, Benari has specialized in helping and guiding customers in some of the most intense and difficult situations, earning the nickname "The case whisperer". Benari has presented at numerous events and conventions over the years, including LWT, FTPI, TechReady, and TechEd. Benari has also published hundreds of articles in the media, as well as 4 books and a video course. He lives in Sammamish, Washington, and enjoys creating Miniatures, Steampunk and Geek art, and performing Stand-Up comedy in his free time.
Savitha Srinivasan
Classical Art
Savitha Srinivasan is a sophomore in the gifted program at Interlake High School. Art has been an integral force in shaping who she is today. At the age of six Savitha began learning Indian classical dance (Bharatanatyam) under the guidance of Dr. Joyce Paul Siamak at ARPAN, Redmond WA. She presented her solo dance debut in the summer of 2016 and has performed extensively at several venues including the Seattle World Rhythms Festival, Northwest Folklife, Seattle International Children's Friendship Festival, Redmond Derby Days, and outreach events at many local schools. She is also an accomplished classical vocalist, plays the violin and dabbles in poetry. Her versatility in the arts is aptly exemplified by the artistic pieces she has choreographed for her poetry, blending contemporary themes with classical styles. Savitha has found art to not only be an avenue for creative expression, but also for social change and a way to give back to the community. In 2014, she co-founded Art You
Engineer. Speaker. Singer.
Vidya Srinivasan is an Engineer, Speaker, and Singer. She holds a Bachelors and Master's degree in Computer Science and works as a Program Manager at Microsoft on SharePoint and Office 365. Vidya loves to tinker with tech to hack-for-good and has won the Grand Prize, Hack 4 Good, Most Inspiring Hack, and Contributing to the Future awards at several hackathons. A passionate advocate for diversity and inclusion in tech, and a firm believer in gender equality, Vidya has been a member of the Grace Hopper Conference Leadership since 2014 chairing technical and career tracks. She is regularly invited to speak about technology, inclusive design, careers in tech in varied settings including panels, presentations, podcasts, keynotes and guest lectures.